Mike Jenkins: Knee Surgery, No Arnold
Explaining that he'd tried everything short of surgery to no avail, top professional strongman Mike Jenkins had knee surgery on Thursday, and IronMind had a chance to catch up with him by phone yesterday.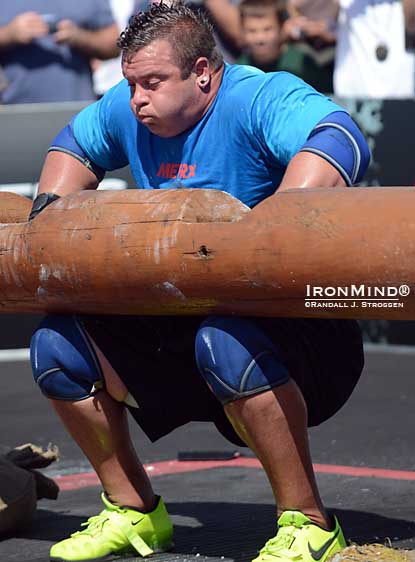 Mike Jenkins about to pop a 220-kg log at the 2012 World's Strongest Man contest. IronMind® | Randall J. Strossen photo.


Jenkins said that even though it was an arthroscopic procedure, "it was more invasive than most," because they had so much cartilage to clean out.

"I can't pinpoint a certain time when I injured it," he said, but the problem was getting worse as the extra cartilage had been catching on his kneecap—especially on the last few inches of extension on things like the push press.

The net result is that by taking care of his knee now, Mike Jenkins will not be defending his title in Columbus next year, but he hopes to be back at full strength and beyond for the 2013 World's Strongest Man contest.

"I'd be lying if I didn't say my plan was to win World's [Strongest Man]," Jenkins said, "but with 30 of the world's strongest guys there, that's a formidable task."

Formidable tasks seem right up his alley as Mike Jenkins has cut an impressive swath through strongman and the support he is getting from his colleagues and students at the Milton Hershey school, where he coaches an after-school program, has Jenkins is fired up: "They're excited because they can YouTube me and see what I do."

With supplements from MHP and equipment from Rogue, Jenkins said, "What more could a strongman want?"

Maybe that trophy with a guy holding the world on his shoulders?

### 



The IronMind Forum: discuss this article, talk strength, get help with your training. |

You can also follow IronMind on Twitter.