Mike Burke Makes September MILO Cover
The September 2013 issue of MILO is out and it's loaded from stem to stern with strength world gems: people, performances and training, from grip strength to strongman to weightlifting—information and inspiration whether you are king of your garage gym or already are an Olympic gold medalist.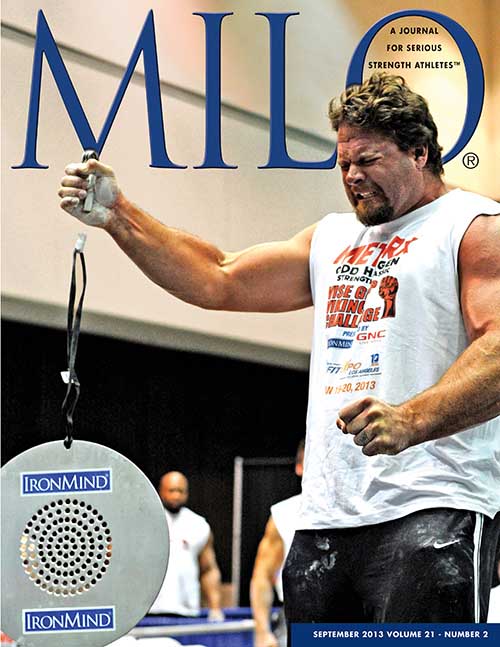 Mike Burke is the editor's choice for having the world's strongest grip—after all, he's certified on the Captains of Crush No. 3.5 gripper and is the world record holder on the CoC Silver Bullet and the Apollon's Axle Double Overhand Deadlift. Not enough? How about when he cleans a pair of Inch dumbbells and certifies on the Captains of Crush No. 4 gripper? By the way, when Mike turned in a most impressive performance on the overhead medley at the World's Strongest Man contest a couple of weeks ago, Bill Kazmaier said appreciatively to Randall Strossen, "That's what happens when a man competes at World's Strongest Man." IronMind® | Randall J. Strossen photo


Click here to see the full Table of Contents for the September 2013 issue of MILO: A Journal For Serious Strength Athletes, which is available both by single issue and by subscription.

#

Want to talk strength? Join the IronMind Forum.

You can also follow IronMind on Twitter and on Facebook.