Mattresses Fit for a Strongman: PermaFit Sponsors SCL
Talk about an interesting matchup: Strongman Champions League is proud of its sponsor Permafit mattresses, which provides both custom features and flexibility, promising just what you need for a good night's sleep even if you are a 160-kg professional strongman.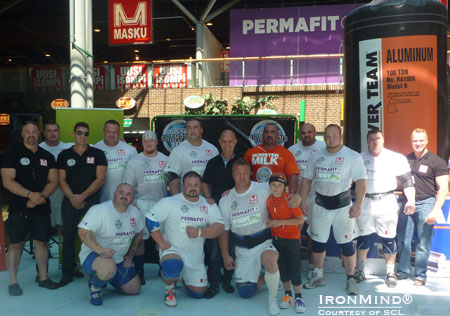 Here's the lineup from the recent SCL–Finland/IdeaPark competition, a strongman contest that was held in one of Finland's largest shopping centers. IronMind® | Photo courtesy of SCL.



This is "the first mattress in the world, where the body structure of strength athletes is taken into account in the planning stage," SCL cofounder Ilkka Kinnunen told IronMind. "The patented Permafit System technology allows for the fact that you get the mattress in one of four characteristics of the mattress. Turn the mattress and the Permafit-hardness will change, one side is stiffer than the other, and the hardness, you can choose for themselves." Turning the mattress lengthwise gives more options, making it possible to match the weight and shape of a person's body.

"The Permafit mattress is also suitable for various injuries," Kinnunen said.

"We are very happy that we have have found Masku furniture shop chain to one of our main sponsors, because they provide us excellent back up to build Finnish strongman sport back to the level it was 10 years ago with Jouko Ahola and Janne Virtanen as a World´s Strongest Man winners," Timo Kangasluoma told IronMind.

"Strongman is a professional sport and there is always need for the money to organize big international and national competitions. When we can organize the competitions both on national and international stages, we can attract more competitors from Finland and hopefully find some good new athletes who will reach the top of this sport.

"At the same time, Masku with its Permafit brand, is building new products directed to strength athletes, which is something that has not happened before in Finland. Strongman sport gets advertising and publicity, and athletes get good beds to recover from hard workouts and competitions.

"These Permafit beds let athletes sleep without pain in the body, which means lot of good rest. And as we know, the muscles are recovering and growing when sleeping, which is one of the most important things in strength and other training, beside good workouts and food.

"Permafit has four different matresses in one. That means that if you are, for example, a bodybuilder, you can have same good sleep while your weight can be 20 kg less when you are on a diet. The Permafit brand expanding to other countries in the near future, so many more athletes will have a chance to sleep well and to be more powerful than ever," said Kangasluoma.

###

The IronMind Forum: discuss this article, talk strength, get help with your training.

You can also follow IronMind on Twitter.