Matti Harju Breaks World Record on the Hub
Hub bragging rights are now sitting in the pocket of Finland's Matti Harju, who broke the world record with a huge 37.76-kg lift at the King Kong grip contest.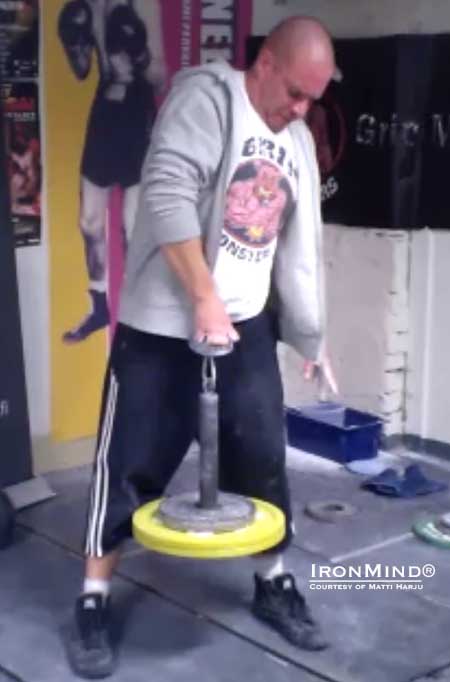 Matti Harju broke the world record on the IronMind Hub at the King Kong grip contest in Finland. IronMind® | Photo courtesy of Matti Harju


King Kong co-promotor Eric Roussin told IronMind, "The International King Kong Grip Challenge took place this past Saturday (October 19th). The contest was held in 8 locations around the world." There were four locations in the USA and one each in Canada, Finland, Russia and Ukraine.

"63 competitors took part in the four-event contest: One Hand Pinch (Euro Device), One Hand Apollon's Axle Deadlift, IronMind Hub, and Little Big Horn," said Roussin.

A number of big lifts were completed and the IronMind Hub showed evidence of the recently heightened interest in this classic test of pinch grip strength. There were a lot of impressive performances and when the chalk dust had settled, Matti Harju's 37.76-kg lift won the event, but wait, that was over the world record, so IronMind reviewed the lift per its standard practice, and this was not one of those reviews that turned into active rest grip training via typing email after email, reviewing videos over and over again, and so forth: this was a very solid lift, a credit to both Matti Harju's grip strength and to how well Juha Harju (GripMonsters) ran the Finnish King Kong grip competition.

Congratulations, Matti—it's official: you hold the IronMind Hub world record!

###



Visit the IronMind Forum: talk strength, discuss this story. Strongman, grip, Highland Games, Olympic lifting, stones and more.

You can also follow IronMind on Twitter and on Facebook.