Matthias Steiner: The Strongest Man in the World
Beijing - Coming into the super heavyweight class in weightlifting at the Olymics, the feeling was that if Evgeny Chigishev (Russia) snatched 210 kg, the rest of the field would be in trouble; although the obvious favorite, Viktors Scerbatihs (Latvia) would miss a critical jerk; it could well come down to the final lift; and that Matthias Steiner (Germany) could well be the surprise winner.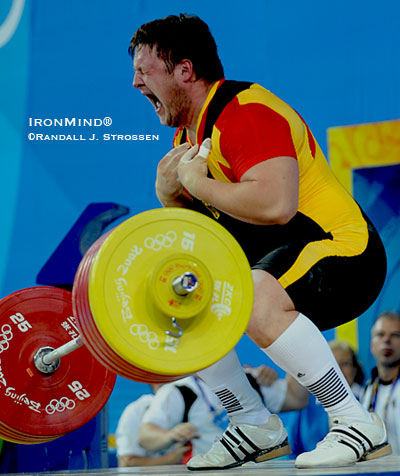 Matthias Steiner had one shot to take the Olympic gold medal in the super heavyweight class back to Germany - all he had to do was clean and jerk 258 kg, and you know what? That's exactly what he did. IronMind® | Randall J. Strossen, Ph.D. photo.

And that's precisely what happened.

Of the big three, Steiner was the only one who missed a snatch: after making 198 kg and 203 kg, he got clocked on the back of the neck trying to get under 207 kg on his third attempt. Scerbatihs executed three picture perfect snatches in his trademark style, reminiscent of a well-lubed machine, ending with 206 kg. And Chigishev ran through 200, 205 and 210 kg, doing the preliminary damage he and his fans hoped for.

Chigishev put himself in gold medal position by jerking 240 kg on his first attempt, and Scerbatihs moved into silver medal position by making 242 kg on his first attempt. For whatever reason, Scerbatihs let the time run out on his second attempt, 244 kg, and then Steiner walked off the platform trying to control the jerk on his opener, 246 kg, which was not the start he wanted.

Chigishev made 247 kg on his second attempt, to extend his lead, and the lift was much better than his first attempt. Bouncing back from his missed opener, Steiner moved into silver medal position by making 248 kg on his second attempt, and then Chigishev made a very nice 250 kg on his third attempt, leaving Scerbatihs and Steiner with one attempt each to take away the Olympic gold medal that was nearly in Chigishev's pocket.

Scerbatihs took the 257 kg he needed to move from bronze medal position to up to the gold medal and after an easy clean, he rammed the bar overhead. For an instant, it appeared that he might have fixed the jerk, but then it came crashing down.

So there we were, with one attempt left and Matthias Steiner called for the weight, 258 kg, that would give him the gold medal, and defying all odds, he made the lift.

To Al Michaels, all we can say is "Yes!" and Matthias Steiner is 146 kg of living proof that there's always a good reason to believe in miracles.