Matthias Steiner Out of World Weightlifting Championships
Yesterday, the IronMind® Twitter page noted that we had been tipped off that Matthias Steiner had just withdrawn from the World Weightlifting Championships, and now IronMind® has confirmed that this is true.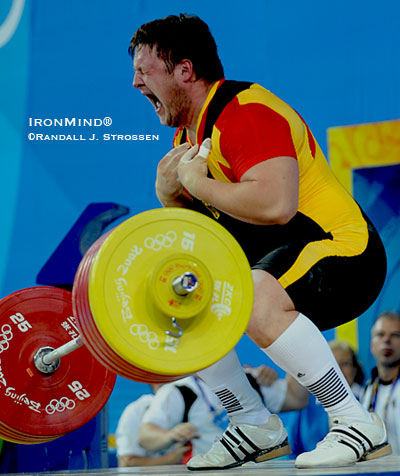 Germany's Matthias Steiner produced a stunning victory at the 2008 Olympics when he made this sensational 258-kg clean and jerk on the last attempt of the competition. IronMind® | Randall J. Strossen photo.

"Because of the operation of his groin in February, and the three-month sports ban, his present form is not suitable for the World Championships. He will prepare after a short break for the World Championships of the next year," IronMind® was told by a source very close to the situation, and an official statement is expected to follow later today.