Matthias Steiner/German Olympic Weightlifting Team Update
"The German national weightlifting team built around Matthias Steiner finished the first world championship test competition in Braunau (Austria) successfully," sports manager and chief coach of the national team Frank Mantek told IronMind®.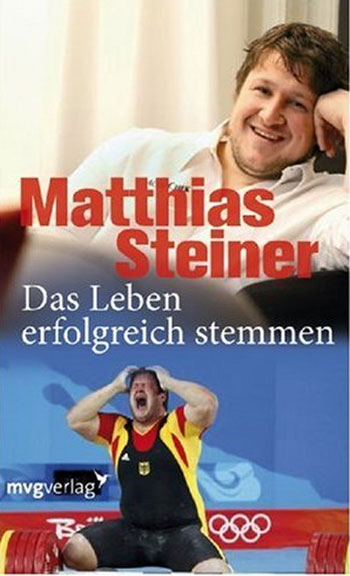 Matthias Steiner: "The Life Successfully Lifted" . . . coming out in Germany on October 16. IronMind® | Image courtesy of Frank Mantek/Michael Vater.


"A good one year after his magnificent Olympic victory, including the break of several months resulting from his [hernia] operation, Matthias Steiner is again back on the weightlifting stage," said Mantek.

"For the preparation on this year's world championships in Goyang (South Korea) the best weightlifters of Germany demonstrated their skills at the 'International Günther Stapfer Memorial' in Braunau," Mantek said.

"After the first intensive time of competition preparation, this event served as the first achievement examination on the way for the world championship," said Mantek - explaining that this was his way to gauge the success of the initial phase of intense training for the World Weightlifting Championships.

Frank Mantek, himself an Olympic medalist in weightlifting, said the he was "very contented with the achievements" of his athletes.

"Olympic champion Matthias Steiner (+105 kg) mastered a load of 190 kg in the snatch and 235 kg in clean and jerk," said Mantek. "European champion Jürgen Spieß (-94 kg) succeeded with 170 kg in the snatch and 200 kg in clean and jerk. And super heavyweight Almir Velagic mastered 180 kg in the snatch and 220 in clean and jerk," Mantek summarized.

"Athletically-speaking, we have achieved a positive balance: We are going in the right direction for Goyang. Now the second world championship preparation phase begins; it ends with the German Championships which will take place on the 23rd/24th of October, 2009 in Ladenburg. Following that, we will focus with the nominated athletes on the [final] phase [leading] up to the world championships in South Korea," explained Mantek.

"Not only athletically, but also in terms of spirit and mood, the tournament in Austria was a success," said Mantek, who uses the research of psychologist Dr. Steven Reiss as one of his primary coaching tools.

"The numerous guests in the sold-out hall celebrated the German athletes and inspired them to these results. In a final short speech Matthias Steiner thanked his audience with the words 'Thanks, we have used this!' And this experience increases our desire for the other athletic successes in this post-Olympic year."

And speaking of Matthias Steiner, his book, "The Life Successfully Lifted," will be coming out in Germany on October 16 - an event that Mantek said is causing great excitement.