Matt Doherty Wins in Antigonish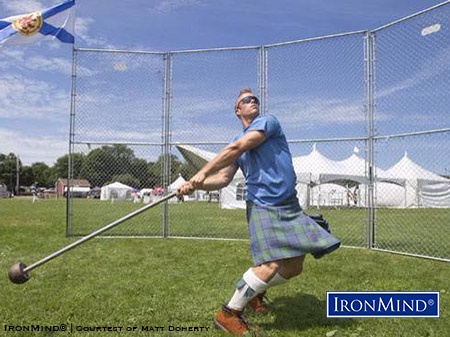 Antigonish, Nova Scotia hosts one of the oldest Highland Games in North America, and it's also the home of top Canadian heavy event competitor, Matt Doherty. IHGF president Francis Brebner reported on this year's competition for IronMind.


2015 Maritime Scottish Heavy Events
by Francis Brebner
President
International Federation of Highland Games (IHGF)
 
The Antigonish Highland Games in Nova Scotia, Canada, the oldest games in North America, celebrated its 152nd consecutive championships. These games have a remarkable atmosphere of friendship and hospitality, for which they are renowned. The week-long program included a packed roster of events, from Scottish fiddles and pipe bands, to heavy events, Highland dancing, and clan gatherings from Canada and around the world.
 
This year's Maritime Scottish Heavy Events had one of the biggest entries of athletes, a total of fifteen, including a top Canadian Matt Doherty of Antigonish, who just a month earlier placed third at the IHGF World Highland Games Championships in Bressuire, France. Doherty was in top form, competing at a mere 230 lb. bodyweight and considered by many to be, pound for pound, the best heavy events athlete in the world.
 
In the 22-lb. Braemar stone Doherty displayed excellent form, blasting out a series of puts all over 40', with his best at 42' 3" for the win and surpassing his own field record of 2014 at 41' 6".  Joel Thiesson was second with 38' 9" and Dirk Bishop third at 35' 7".
 
In the 56-lb. weight for distance, Doherty showcased skill and agility as he let fly with another dominating series of throws all over 40' with a win at 42' 3". In a tight contest, second went to Thiesson at 37' 7" to Bishop's 36' 2-1/2".
 
Doherty continued to shine in the 22-lb. hammer, lashing out a series of amazing throws and in a realm of his own, with his best at 118'.  Greg Hadley took second at 105' 11", with Thiesson third at 99' 5".
 
The caber, which was 22' 6" in length and 120 lb., was won by Bishop with a toss of 11:30, followed by Doherty with 1:15. Jim Nickerson was third with 87 degrees.
 
In a riveting contest with the 56-lb. weight over bar, Thiesson won at a height of 15 '6"; second was a tie between Doherty and Danny Frame at 15'.
 
On day two, Doherty looked relaxed in the 17-lb. open stone, notching up another victory with a put of 50' 2-1/2".  Second place was Hadley at 43' 11", with Thiesson in third at 42' 1".

In the 28-lb. weight for distance, Doherty was poetry in motion in his warm-ups and looked as if he was going to pull out some big throws—which he did in a blistering series all over 80' with his best at 81' 10", a foot less than the field record. Thiesson was second with 72' 9", and Hadley third at 71' 7".  
 
The last scoring event was the 16-lb. hammer and Doherty did not disappoint as he set a new field record of 145' 8", breaking his 2014 record of 144' 3". Hadley was second at 124' 9" and Frame third at 117' 3".
 
Overall points – top 8
1. Matt Doherty         10.5
2. Greg Hadley          23.5
3. Joel Thiesson         26.0
4. Dirk Bishop            32.5
5. Danny Frame          42.5
6. Joe Hall                  47.5
7. Kevin Robinson      53.5
8. Scott McHugh        65
 

                                                          ###



You can also follow IronMind on Twitter and on Facebook.                        



Want to talk strength?  Join the IronMind Forum.