Masters World Highland Games Championships
"The Rio Grande Valley Highland Games in New Mexico celebrated twenty five year of consecutive games in style with the hosting of the 2013 Scottish Masters World Highland Games Championships this past weekend.," Francis Brebner reported to IronMind.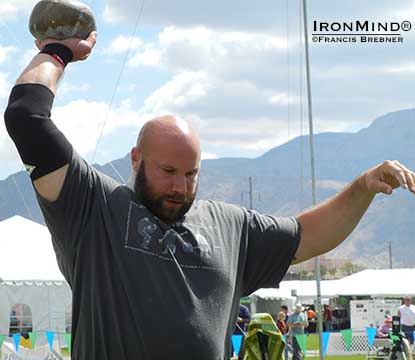 Jake Sullivan won the pro class at the Rio Grande Highland Games Championships. IronMind® | Francis Brebner photo.


A total of one hundred and seven Masters Athletes traveled from all over the World with many coming from as far afield as Scotland, Germany, England, Japan, Canada, Ireland and the USA.

"In the Woman's Masters 50 plus category Terry Ventress come into this competition prepared and on top of her games and created a total of four World records. Other world records that tumbled in the woman's class were in the 40-49 group which were set by Erica Hay.

"In the men's Category in the 50-54 Brent Abbott set a world record in the 16-lb. Sheaf Toss with a height of 34' and in the 50-59 class, Rick Kremar set a new world record with the 42-lb. weight over the bar of 18'1".

"The Professional division on the Sunday had a great line up which included Sean Betz, Ryan Stewart, Beau Fay, Chad Gustin, Jeremy Gillingham and the three new rookie pros to the games circuit Jon O'Neil, Spencer Tyler and Jake Sullivan.

Overall: Professional Class
| | | |
| --- | --- | --- |
| 1. | Jake Sullivan | 22.5 |
| 2. | Sean Betz | 23.0 |
| 3. | Spencer Tyler | 39.0 |
| 4. | Ryan Stewart | 40.0 |
| 5. | Jon O'Neil | 42.5 |
| 6. | Jeremy Gillingham | 43.0 |
| 7. | Chad Gustin | 49.5 |
| 8. | Beau Frey | 64.5 |
"The Masters World Championships in my view was one of the best organized games I have been involved for such a large amount of athletes competing over a single day championship which had one hundred and seven athletes throwing in all nine events which ran very smoothly with no interruption in the program of events," said Brebner.

###

The IronMind Forum: discuss this article, talk strength, get help with your training.

You can also follow IronMind on Twitter.