"Master Class with Misha": Big Lifts by Russian Strongman Koklyaev
Just in from Colin Bryce: The very popular Russian strongman Misha Koklyaev will be putting on a show tonight in Glasgow, Scotland, where he promises to deadlift 400 for reps, among other things.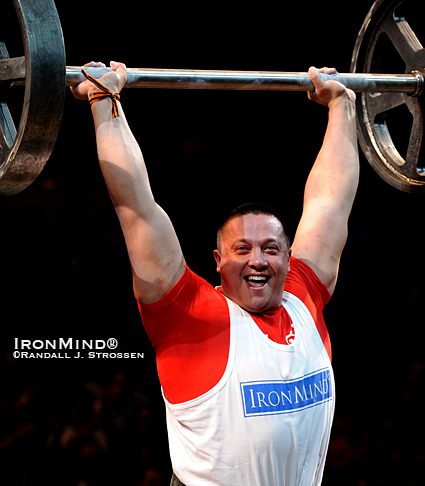 He's strong at just about everything and tonight, Russian strongman Misha Koklyaev is going to put on quite a show in Glasgow. IronMind® | Randall J. Strossen photo.




Calling it a "Master Class with Misha," Bryce initially said that Koklyaev claimed he would do "3 reps at 400 kg in the deadlift," but added: "If he feels good, then he will do 4."

"To follow that he will do some snatching and jerking," said Bryce. Koklyaev, while not a member of the Russian national weightlifting team, has more than passing familiarity with the sport: he competed twice at the European Weightlifting Championships (bombing with 190 kg in snatch in 2002; placing 5th in 2004 with a 190-kg snatch and a 230-kg clean and jerk). Koklyaev has also competed in the Highland Games, but strongman—with its blend of sport and entertainment—has been the perfect stage for the personable Russian strongman who will be making his much-awaited debut at World's Strongest Man next month.

Koklyaev is a headturner in the strength world, so it's no wonder Bryce calls this, "A seminar not to be missed!" So if you are in Glasgow, head over to Bellahouston's Palace of Arts at 7:00 p.m. tonight.

And if you need more, as we go to press, IronMind® was just told that Misha has upped the ante and now promises he will do four reps with the 400-kg deadlift and will attempt a "no-hands back squat with 290 kg."


Want to talk strength? Join the IronMind® Forum!

You can also follow IronMind® on Twitter.