Mas Wrestling Coming to Columbus
Talking about mas wrestling making its debut at the Arnold, Odd Haugen told IronMind, "We have full 8-man Absolute A-B Tournament with elimination after two losses with some very big boys."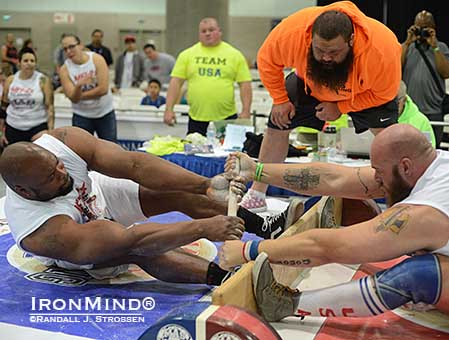 Powered by dotFit, mas wrestling is headed to the Midwest: Mark Felix (left) and Clay Edgin (right) are among the big boys who will plant their feet, grab the still and try to pull the other other guy over the centerboard or rip the stick out of his hands. IronMind® | Randall J. Strossen photo


"Most notably are Markus Mannik of Estonia, with extensive World Cup experience, and Mark Felix wanting to try his hand (back) at MAS wrestling again after a very fine third place finish at the 2014 All American Tournament in Los Angeles," said Haugen.

Competitors
Atle Tveit (Norway), 285 lb./130kg
Markus Mannik (Estonia) 285 lb./130kg
Steve Schmidt (Ohio, USA), 335 lb./152.5kg
Jacob Finerty (California, USA), 300 lb./136kg
Mark Felix (England, UK) 308 lb./140kg
Dale Schumaker (Ohio, USA), 415 lb./185kg
Philip Brown (Ohio, USA), 415 lb./185kg
Clay Edgin (California, USA), 315 lb./143kg

"Everyone will have at least one match on Friday and at least one match in the final rounds on Sunday. Round One starts at 10:45 AM on Friday 28 on the Concourse stage (bottom of the escalator). Winners of Round 1 will wrestle again in Round 2A against each other. Losers of Round 1 and 2A will wrestle for 3rd, 4th, etc. places on Sunday morning at 9 AM on Concourse Stage, and winners of Round 2 will wrestle for the championship," said Haugen.
For more information on mas wrestling, plesase visit Mas Wrestling USA.

###



Want to talk strength? Join the IronMind Forum.

You can also follow IronMind on Twitter and on Facebook.