Mas Wrestling Comes to Slovakia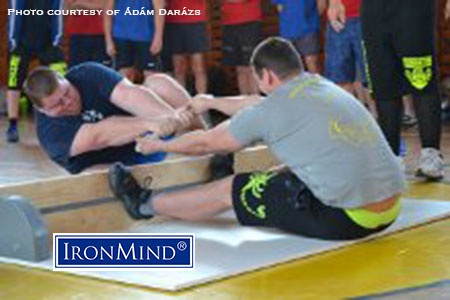 Mas wrestling—a sport with ancient, global roots that has been callled "close quarters tug of war—debuted in Slovaki and IHGF CEO Francis Brebner reported on the action for IronMind.



Slovakia Welcomes Mas Wrestling

by Francis Brebner
International Federation of Highland Games (IHGF)



Last weekend the first ever mas wrestling competition was held in Slovakia, in the town of Dunajská Streda. The event was co-produced by organizers Ádám Darázs of Hungary and the newly formed Slovak Mas Wrestling Association. 46 athletes representing Slovakia, Hungary, and the Czech Republic competed, in four weight classes: 85 kg, 110kg, 125kg, and +125kg.
 
"It was a fantastic competition from start to finish," said Darázs, "which created an incredible atmosphere." 

Athletes came from many backgrounds, including strongman, powerlifting and Highland Games, and gave their all, enthralling the audience from start to finish. Darázs went on to say that he thinks this is a good start for the sport of mas wrestling, which has now received an invitation from the town to hold a mas wrestling Summer Cup Championships.
 
Top three in each class:
 
85 kg
1. Kitanovits Attila – SLO
2. Szkiba Krisztián – HUN
3. Dusnoki Imre – HUN
 
110 kg
1. Juhász Dominik – HUN
2. Mykhailo Krasilevets – CZE
3. Mészáros Dávid – HUN
 
125 kg
1. Lipták Milán – SLO
2. Juhász Csaba – HUN
3. Kovács Ferenc – HUN
 
+125 kg
1. Várnai Richárd – HUN
2. Sidó Tamás - SLO
3. Molnár Attila - HUN


                                                       ###



Want to talk strength?  Join the IronMind Forum. 

You can also follow IronMind on Twitter and on Facebook.