Mas: Simple, Ancient Test of Strength
It's simple, has deep, multi-cultural roots, but you what else it is about that Mas wrestling that makes it appealing?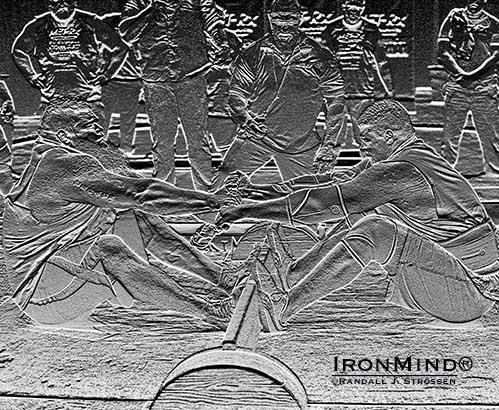 Mas wrestling goes back millennia, with roots in Russia, Scotland and Spain—and Norse ties as well—Odd Haugen told IronMind today. Come give it a try at the Los FixExpo January 25 - 26 and maybe you'll end up competing in the 2014 Mas Wrestling World Championships in Yakutsk, Russia later this year. IronMind® | ©Randall J. Strossen


"It's a true test of functional strength," Odd Haugen told IronMind today. "Grip, back, legs—your whole body goes into it."

Haugen kicked off mas wrestling at the 2013 Los Angeles FitExpo and it was a huge hit, so he did an encore at the San Jose FitExpo last summer, and on January 25 - 26, he will be bringing the show back to Los Angeles as part of the Odd Haugen Strength Classic at the LA FitExpo.

On Saturday, January 25, there will be mas wrestling clinics throughout the day, in between strongman events, so you can hone your skills, and at the end of the day, Haugen will crown a king and queen of the hill, based on the best results from the people who give this a try. And, if a walk-on looks like he or she has what it takes to get in there for the tournament the next day, Haugen might be able to do late signups on the spot.

As for the tournament itself, "It's the first step toward qualifying for the world championships later this year in Yakutsk, Russia," said Haugen, who will be in there with the big boys as they give it their all on Sunday.

Follow these links for full details on the Los Angeles FitExpo and the Mas wrestling tournament there.



###



Want to talk strength? Join the IronMind Forum.

You can also follow IronMind on Twitter and on Facebook.