Martin Wildauer Wins Giants Live Finland
With the prized invitations to the World's Strongest Man contest staring them in the face, it was a fierce battle and Giants Live Finland, with Giants Live Colin Bryce reporting the action for IronMind.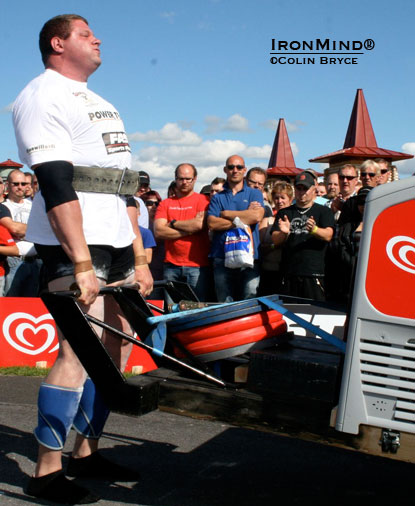 Martin "The Deadlift Kid" Wildauer pulled out all the stops, won Giants Live Finland, and is on his way to the World's Strongest Man contest. IronMind® | Courtesy of Giants Live.


Giants Live Finland: The Kid Comes Through
by Colin Bryce

On Saturday afternoon in the Power Park near Vaasa in Finland, Giants Live held its fourth Grand Prix of the season. It was a part of a huge Truck Fest that attracted over 15,000 people–a great deal of whom got caught up in the strongman action that was unfolding in the middle. The ten man lineup was fighting for three coveted spots at the World's Strongest Man contest in North Carolina in September. This event ended up being one of the highlights of the strength year: Great athletes, great equipment and world-class refereeing allowed for a real battle to unfold.

The event was already put into a high note when Rob Frampton the day before took on a 400 lb. trucker and his friends in an armwrestle that drew a spontaneous crowd. Elevated by his friends cheering the trucker shouted for a bet, Rob happily relieved him of his inflated ego and 50 Euros.

The real event started in earnest with a "Volvo Truck Pull." It was a stunning 28-ton truck that had to be pulled 20 m. The winner was none other than Lithuania's veteran warrior, Vidas Blekaitis. Having won a Giants Live open qualifier in Las Vegas earlier in the year he gained the right to come to Finland. After putting daylight between him and the other competitors in this pull–33 seconds compared to 37 seconds in second–we knew instantly that by the end of the day Lithuania would have three great strongmen going to World's Strongest Man. Notably, Martin Wildauer came second.

Next event was "Lahega Log"f or reps with 145 kg in 60 seconds. No guesses for who the winner was here?! Blekaitis's 10 reps eclipsed all the others including a very good effort from the "new boy" to international strongman, Rauno Heinla of Estonia. Heinla hit 9 reps at a body weight just over 120 kilos. With that performance at that body weight he was dubbed the new Jouko Ahola.

The third event was "Michelin Tyre Flip." Eight flips in 75 seconds with a 440-kg tyre and it was the 23 year old Austrian Martin Wildauer who came to the fore here. H e won the event in 34 seconds and proved that his comeback from a hideous pec injury last year was more than complete.

Event four was the "GB Glace Deadlift" for reps with 343 kilos in 60 seconds. It was on an apparatus which lifted away from the body and made the feat of strength even harder. The Deadlift Kid, as Wildauer is known, didn't disappoint. He had a target of 9 reps from Heinla to beat (which already amazed everyone watching). However, Wildauer hit a 10th just before time to take the win.

The "Power Team Forward Hold" was the penultimate event: 25-kg to be held out in front for as long as possible–very old school and very painful. Vidas "Shoulders" Blekaitis easily won this with a time of 69 seconds. But again it is very notable that the long armed Wildauer dug in for third place and a share of first place going into the last event, the medley.

The final "Fast/Defa Medley" was cooked up by the legendary organising team of Ilkka Kinunnen and Marcel Mostert to be a brutal finisher for the athletes. One giant box weighing 120 kg then 4 sacks getting heavier from 90 kg to 120 kg had to be run to a 4-foot platform. It was the final pairing that all eyes were on. Heinla had to only finish the Medley in the penultimate heat to guarantee himself third place and his spot at the Worlds. Wildauer and Blekaitis went at it like men possessed. The lead changed hand on the early kit but finally Wildauer, who has immense experience despite still being only 23 years old, sustained his efforts to the end and took the overall win.

So three new faces go to WSM and a chance at being crowned the King of Strength: Wildauer, Blekaitis and Heinla. T hree very dangerous men for the rest of the WSM field to be worried about.

Here are the final results:
| | | |
| --- | --- | --- |
| 1. | Martin Wildauer | 52.0 |
| 2. | Vidas Blekaitis | 49.0 |
| 3. | Rauno Heinla | 44.0 |
| 4. | Agris Kazelniks | 34.5 |
| 5. | Tomi Lotta | 33.0 |
| 6. | Juha Matti Jarvi | 32.5 |
| 7. | Rob Frampton | 26.0 |
| 8. | Espen June | 24.5 |
| 9. | Mareks Leitis | 16.0 |
| 10. | Jarno Kirsela | 13.5 |
So what is left? All eyes in Ukraine next week: follow the contest on Twitter @GiantsLiveWSM and watch for the official contest report on IronMind. Some big names may yet be left at home as the WSM field as almost complete. The SCL qualified their top 5 athletes for World's Strongest Man as the standings are now, and it can be confirmed that two places are still left to be filled when Canada's Strongest Man is taken into consideration.

Special note: a big thank you from Giants Live to the "Strongman Champions League" team for helping create such a magnificent event. They are true professionals and the coming together in Finland made for a great contest.

###

The IronMind Forum: discuss this article, talk strength, get help with your training.

You can also follow IronMind on Twitter.