Martin Wildauer Returns to Competition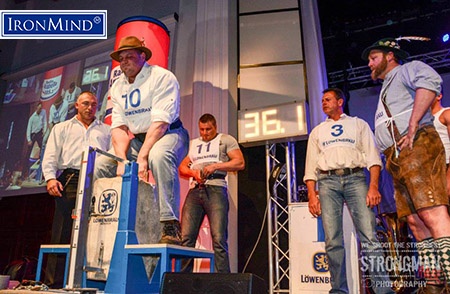 Martin Wildauer, the 2014 MHP Strongman Champions League World Champion, opened his 2015 season with a stonelifting victory at the Löwenbraukeller Starkbierfest.



Martin Wildauer Wins Traditional Stonelifting Competition
by Aryn Lockhart/Strongman Rage    

Munich, Germany. He's BACK!! This past weekend, Martin Wildauer won the traditional stonelifting competition at the Löwenbraukeller Starkbierfest. Stonelifting is a traditional strength sport throughout southern Germany in Bavaria and Austria. After snapping his Achilles tendon in the Strongman Champions League Final in November, Wildauer is recovering quickly and getting stronger by the day.

Wildauer won lifting the 254-kg stone 56.4cm. Training for three weeks he stated, "I feel good, but not as strong as last year." Last year Wildauer broke a 25 year old record lifting the stone 69cm. He is continuing to train and preparing for his comeback for the 2015 strongman season.

                                                       ###



Want to talk strength?  Join the IronMind Forum. 

You can also follow IronMind on Twitter and on Facebook.