Mark Philippi: "Where's the Drug Testing"
"If IFSA views it as a true sport, it should implement testing comparable to other international sports," Mark Philippi told IronMind®.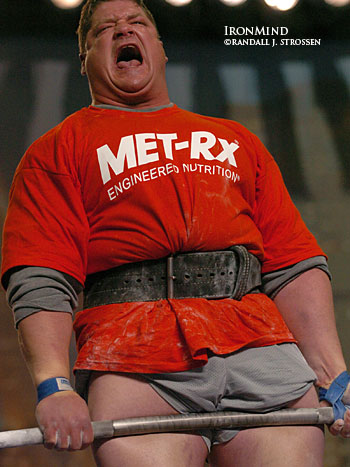 IronMind® calls him, "The Face of Strength": Mark Philippi, head of the Philippi Sports Institute in Las Vegas, is a seven-time World's Strongest Man competitor, an America's Strongest Man winner and a US drug-free powerlifting champion, and he has a history of not being afraid to speak up when remaining silent is the easy way out. IronMind® | Randall J. Strossen, Ph.D. photo.

"Until it does, it is also just entertainment, like WSM [World's Strongest Man]. TWI considers WSM a TV show (entertainment) which really requires no testing, other than to make sure someone is healthy enough to compete," Philippi explained. "Unless IFSA or some other entity wants to make the commitment to cleaning up the sport to bring in major sponsors they/we are all just kidding ourselves that it is a sport and living in a fantasy world. It will never grow.

"You can think of all the excuses in the world (money, time, etc.) not to test, but none of them really matter. All the smart people that are organizing the sport won't get rid of the one major stumbling block . . . [there is] no drug testing."

Philippi has been featured in MILO®, Sports Illustrated, and Men's Health, among other publications, and he has distinguished himself not just as a lecturer, coach and competitor, but also by his willingness to speak up when it's easier to simply go along with the crowd (see the June 2007 issue of MILO®). Philippi's comments come at a time when concern about premature deaths in strongman is hitting record levels, fueled by persistent rumors that deadly combinations of Nubain and EPO are having a tragic impact on the strongman world, already marked by a number of high-profile deaths.