Mark Philippi: It's His 7th WSM
When Bill Kazmaier retired from strongman, that left a big gap in terms of American competitors; in the mid-1990s Phil "Stonehenge" Martin came along and got everyone's attention in a really big way, and then a guy named Mark Philippi became part of the international professional strongman circuit, bringing the Stars and Stripes back into the lineup and restoring respect for American strongmen internationally.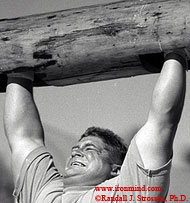 In days of old, when . . . and the log really was . . . Mark Philippi bangs out another rep at the 1997 World's Strongest Man contest (Primm, Nevada). IronMind® | Randall J. Strossen, Ph.D. photo.

The UNLV strength coach is a busy man: as if his day job and being a world-class strongman competitor were not enough, the father of four is also an in-demand personal trainer who works with NFL players and professional boxers, among other clients.

He's known for letting his actions do the talking, but Mark Philippi put WSM-7 in perspective: "You always appreciate making it to World's Strongest Man," but saying that this one is particularly special, he added, "The first time or two you can always think about the next year, but now, I don't know how many more I have left in me."

Because of a last-minute change in plans, Mark's wife, Tracey - always his number-one fan and cheerleader - was not able to make the trip with him. "I'm extra motivated to do well, now," Mark said. "It's not easy taking care of four kids by yourself," explaining that if he could do well, that would help make up for the extra burden on his wife.

The specific events always play a role in determining who does well in a particular strongman contest, and Mark said the events at the 2005 MET-Rx World's Strongest Man are "middle of the road" for him, with "some strength events and some running around," and he called the overall event selection "well-rounded."

As far as his own preparation, Mark said, "My legs are strong," which is probably an understatement coming from the guy who's always in the hunt for top honors on the basic strength events such as any type of squatting or deadlifting. And with his cardio also reported as good, Mark looks to be all set for another top WSM performance.