Mark Felix Wins the Visegrip Viking Challenge
Coming in, IronMind had called this Felix vs. Durniat, but no less than Brian Shaw predicted that Michael Burke would win, and as it turned out, both of us had this partly right.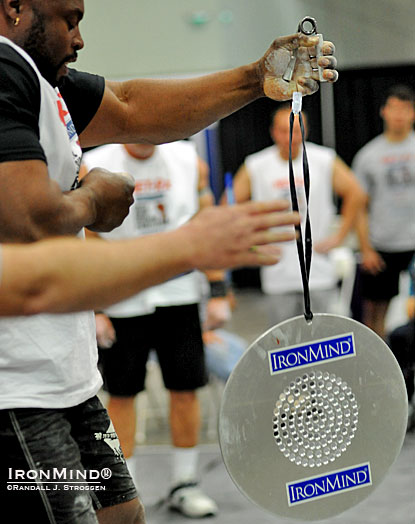 Mark Felix's hand opens on the Captains of Crush No. 3 gripper and referee Mike Corlett signals for time as the CoC Silver Bullet is launched: Felix is credited with the inaugural world record as he held on for 43.25 seconds at the 2012 LA FitExpo. IronMind® | Randall J. Strossen photo.


Opening with the Rolling Thunder®, there was hope that Mark Felix would break his own world record (301 lb.), but that was not to be as Mark Felix and Michael Burke tied at 271 lb.—both men missing 282 lb. Incidentally, before the competition started, Odd Haugen recommended to me that the Rolling Thunder world record be reset based on the top results of this contest, as the smoothest way to handle the transition from the period before the current Rolling Thunder handle was introduced (2009).

Next up was the Apollon's Axle Deadlift, double overhand, which along with the Rolling Thunder is become the other world standard for thick bar lifts. Staring everyone in the eyes was Rich Williams formidable 501-lb. world record, while four guys got to a most worth 463 lb. (Odd Haugen, Michael Burke, Andrew Durniat and Mark Felix), Big Rich's record was never in danger.

Felix and Burke were tied for the lead now, with Durniat 1-1/2 point behind.

Medleys have grown in scale and popularity in grip contests and Odd Haugen put together 12 objects of different sizes, shapes and weights—all but one testing pinch grip. Burke won, mastering 11 of the challenges; Odd Haugen, Vince Urbank, Daniel Reinhard and Andrew Durniat all tied for second as each succeeded with 9 of the objects.

Burke catapulted into the lead after the medley (34 points), and Durniat (30 points) leapfrogged over Felix( 28.5 points), with Haugen pushing into third place (29 points).

Going back to crushing grip, the CoC Silver Bullet challenge was next, with the best time to become the world record. IronMind had created a calibrated 2.5 kg disc especially for this event, to give even more visual appeal to the new event, which went over big time with both the competitors and the audience. Mark Felix won with a time of 43.25 seconds, followed by Andrew Durniat (33.49 seconds) and Jerry Pritchett (27.07 seconds).

Durniat was back in the lead now (41 points), but Felix was breathing down his neck (40.5 points) and Burke was close enough (38 points) to be a threat as well.

So now it was going to come down the final event, the Viking Fishing Pole Wrist Roller Challenge, and this is where the bottom fell out for Durniat as he finished in 6th place—which would leave him third overall. Felix's fortunes went in the opposite direction, as he won the event, which also gave him the overall victory. And Burke did the same thing as Felix, only right behind him: second in the Fishing Pole and second overall.

Here are the final places and points, officially:

| | | |
| --- | --- | --- |
| 1. | Mark Felix | 52.5 |
| 2. | Michael Burke | 49.0 |
| 3. | Andrew Durniat | 48.0 |
| 4. | Odd Haugen | 40.5 |
| 5. | Jerry Pritchett | 33.5 |
| 6. | Josh Thigpen | 29.5 |
| 7. | Vince Urbank | 28.0 |
| 8. | Joel Dircks | 26.5 |
| 8. | Daniel Reinard | 26.5 |
| 10. | Jon Eklund | 26.0 |
| 11. | Steve Schmidt | 25.0 |
In addition to major bragging rights and impressive trophies, Mark Felix pocketed $1,000 cash (courtesy of IronMind); Burke and Durniat won $600 and $400, respectively (courtesy of Grassland Beef).

###



The IronMind Forum: discuss this article, talk strength, get help with your training.

You can also follow IronMind on Twitter.