Mark Felix: His Left is Better Than Your Right
When Mark Felix underwent biceps surgery, some guys might have thought they would have a chance to close the gap or maybe even catch the Rolling Thunder® world record holder, but we'd have to say, "Don't bet on it."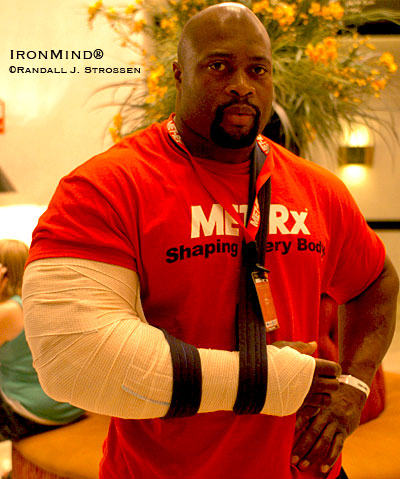 As he was standing around in the hotel lobby at the 2008 MET-Rx World's Strongest Man contest, someone kidded Mark Felix that he was just using the cast to make his arm look even bigger, but what is not a joke is the damage Mark can do to the Rolling Thunder® with his left hand as well as his right. Read on and it's your choice: either weep or train harder if you thought this would be your year to catch Mark. IronMind® | Randall J. Strossen photo.


When Mark Felix won the 2008 Rolling Thunder® World Championships, he did more than grab the title and the prize - he also became the first man in history to break the 300-pound barrier on this benchmark feat of grip strength. Jaws dropped, because this was no lightweight field, as Odd Haugen, Brian Shaw, Karl Gillingham, and Terry Hollands tied for second place, all hitting 255 pounds. And there he was, standing alone, towering over the others: Mark Felix pulled 301 pounds on the Rolling Thunder®, and since these world championships were held as the kickoff event for the World's Strongest Man Super Series Mohegan Sun Grand Prix, the world-class setting matched the world-class field and Mark Felix's world-record performance.

He only got his doctor's clearance to return to work about a week ago, so you'd think Mark Felix would be taking it easy, but all it took was seeing Chad Woodall's big lift on YouTube to fire up Felix, and out came the Christmas present - a new Rolling Thunder® that Felix called "a thing of beauty," and sparing his injured wing, he hauled up 280 pounds . . . lefty!

If that doesn't drop your jaw, throw this into the equation: Denny Felix told IronMind® that Mark has not trained this lift since last January, which just goes to show that Bruce Wilhelm's observation that "When you're strong, you're strong" has a lot going for it.

Denny Felix reported, "Your new RT [Rolling Thunder] has gone from being a thing of beauty to 'a beast,'" and if you're not feeling faint-hearted, consider that Mark Felix is hoping to reach 315 pounds!

Now that you know Mark Felix isn't on the ropes, you have two choices: train harder or just weep.