Mariusz Robbed at Muscle Beach?
In the wake of heated conversations about the scoring system used at the WSMSS Muscle Beach Grand Prix, IronMind invited Odd Haugen, the contest's organizer and a very worthy competitor himself, to comment on what he calls "Double Points! WSMSS-style."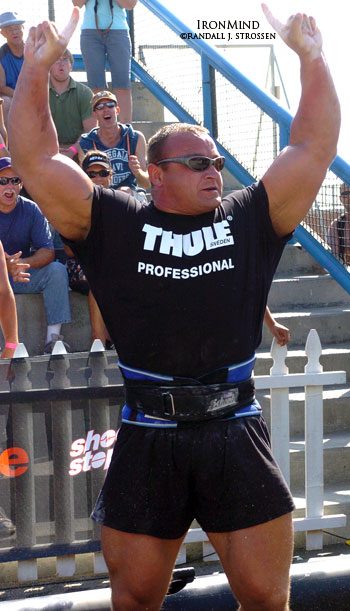 Three-time World's Strongest Man winner Mariusz Pudzianowski had a seven-point lead going into the final event at the WSMSS Muscle Beach Grand Prix, yet Dave Ostlund was able to overtake him for the overall victory. Was Mariusz robbed? IronMind® | Randall J. Strossen, Ph.D. photo.

"Let me first say, if it was up to me personally," Haugen said, "I would prefer that if 14 guys started the contest, 14 guys should complete contest. Fourteen points for first place, 1 point for last place, and zero if the athlete didn't score a measurable result. However, practical considerations such as TV production and keeping the live audience engaged necessitate reducing the field of athletes as the contest proceeds. Even if we keep the scoring the same as we reduce the field to 6 or 8, you are now going from a 14-point spread from first to last to a 6- or 8-point spread from first to last which makes it difficult for someone to come from behind to catch the leader, or just move up in the standing.

In many contests you may as well eliminate the final events because the final standing is pretty much finalized without running the final event! But of course, we don't want that, and therefore giving extra credit for the last event will keep the competition alive.

At this past weekend's World's Strongest Man Super Series Venice Beach Grand Prix, we awarded double points for the final event, 16 for first place and 2 for last place as we did at Mohegan Sun Grand Prix in April. This was specifically explained to all the athletes in the Friday night's rules briefing, and interestingly, the only protest or argument against it was voiced by David Ostlund, the eventual beneficiary of the rule.

David won because he is an outstanding athlete that had an equally outstanding day, Mariusz Pudzanowski got second because he tried to win the final event, instead of cautiously securing the overall victory, which he easily could have done. But that is NOT Mariusz. Mariusz is a fighter and he tries to win every event in every contest, and usually does!"

In discussing this situation, Dave Ostlund told IronMind® that it was ironic that he - the sole athlete to object to this scoring system at the rules briefing - was the largest beneficiary of it, although it should be understood that even when Dave raised his objections he fully understood that the final event, stones, is one at which he excels. This should make it clear that Dave Ostlund's objection was based not on his self interest, but on his belief that all events should be weighted equally, and it bears on the larger question, Ostlund explained, of how much the contest itself should be shaped by TV considerations.