Mariusz Pudzianowski Wins 2008 Fortissimus Strongman Achievement of the Year Award
Duly recognizing Mariusz Pudzianowski's record-breaking fifth win at the World's Strongest Man contest last year, the Fortissimus board of directors voted unanimously today to give Mariusz Pudzianowski the 2008 Strongman of the Year award.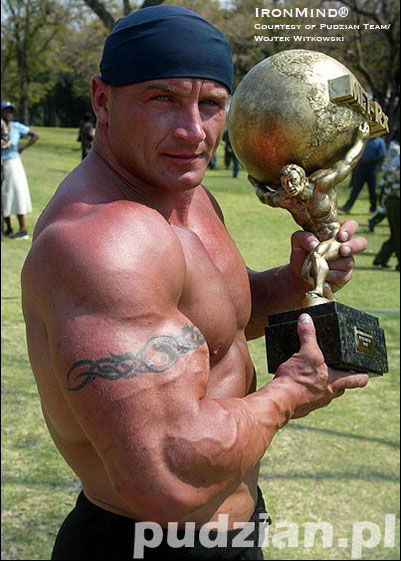 Mariusz Pudzianowski made strongman history by winning the World's Strongest Man contest five times. IronMind® | Photo courtesy of Pudzian Team/Wojtek Witkowski.


Here is the official statement, issued by Marcel Catellier, Chairman of the Board, and released to IronMind®:

Considering that WSM [The World's Strongest Man contest] is recognized by the world's strongman community as the one competition that has set the standards of the sport of Strongman since 1977;

Considering that only four strength athletes have won the WSM title three times or more ( Bill Kazmaier of the USA, Jon Pall Sigmarsson of Iceland, Magnus Ver Magnusson of Iceland and Mariusz Pudzianowski of Poland) between 1977 and 2008;

Considering that in 2008, Mariusz Pudzianowski of Poland, in the course of his 9th year of professional Strongman competition, has won the WSM title for a fifth time (5th), thus becoming the first strength athlete in the history of the sport of Strongman to reach that milestone;

Considering that such an accomplishment is unprecedented, as Mariusz Pudzianowski has defeated 28 different world-class strength athletes from 14 different countries and in 18 different events, this at the 2002, 2003, 2005, 2007 and 2008 World's Strongest Man annual competition;

The FORTISSIMUS WORLD STRENGTH's Board of Directors, at its meeting of February 25, 2009, has appraised the recommendation of the Awards Committee with regards to the 2008 STRONGMAN ACHIEVEMENT OF THE YEAR and voted to the effect that:

The 2008 STRONGMAN ACHIEVEMENT AWARD OF THE YEAR is awarded to MARIUSZ PUDZIANOWSKI of Poland, as the winner of a 5th World's Strongest Man title."