Mariusz Pudzianowski: Bring Them On
He's a four-time World's Strongest Man winner and is most likely the best-known, top-earning professional strongman on the circuit today, so what's he think about Fortissimus and are his knees shaking at the thought of competing against IFSA's top guys?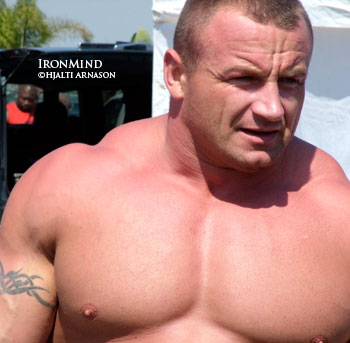 Mariusz Pudzianowski, on his way to winning the 2007 World's Strongest Man contest. This was Mariusz's fourth victory in, names aside, what has historically been considered the world championships in strongman. IronMind® | Hjalti Arnason photo.
IronMind®/Randall Strossen: Mariusz, you are the one guy from World's Strongest Man that the IFSA guys seem to have some respect for, but you can tell that the IFSA guys think they have the strongest strongmen - what do you think about this, please?

Mariusz Pudzianowski: I think only one man can be the strongest and the IFSA guys avoid confrontation with me. We can find out how it is in the duel. I don't know who is the strongest now but I'm not afraid to stand up to the challenge for the title. Ask them what they think about it. I am ready! I hope their respect for me is real - I also respect them and watch them because they are my rivals and no one should be disregarded!

IronMind®/Randall Strossen: Jarek [Dymek] explained to me about the 400-kg deadlift and we wrote about this in the IronMind® News column - why do you use this as a gauge of whether you are in shape for the Arnold, please?

Mariusz Pudzianowski: Yes, I'm using it because I practice [train] on it for that moment and it's recently been one of the favorite things I do - practice. Of course it doesn't matter that it's similar in weight like for the Arnold because when I practice something I do it until I am satisfied with the results and it's the same this time.

IronMind®/Randall Strossen: A lot of people see you as being the strongman with the all-time highest earnings, and with four World's Strongest Man victories along with your other wins, you can also make the argument that you are the most successful in competition, as well. What motivates you to keep training and competing so hard?

Mariusz Pudzianowski: I'll tell you this - to make money I had to work hard for 10 years. I have never done anything because of the money! I always practiced to win the title or defeat others - that was my main motivation. People don't believe that a few years ago I drove a disintegrating Polish small Fiat which I could barely fit myself into. And now the truth is that the money found me so I'm trying to be a good businessman and not lose what I have. The desire to be better than others is the best way to success, not the desire for money. And if you have results the rest comes by itself!

IronMind®/Randall Strossen: What are your overall goal(s) in strongman?

Mariusz Pudzianowski: My main goal in the whole strongman is to prove to myself it's possible to win the World's Strongest Man title for the fifth time and maybe more. When I set myself a goal, I have to achieve it and that's it. I just wouldn't like to get an injury and that's the trick because you only have one life and it's worth living to fight and win!

IronMind®/Randall Strossen: Do you have any questions for us, or is there anything that you would like to say that I didn't ask about?

Mariusz Pudzianowski: No, I have no questions, enough said! Thank you for the interview and see you at Fortissimus 2008!