Mariusz Pudzianowski = 5 x WSM + 1 MILO Cover
"Mariusz is a warrior," his co-manager Wojtek Witkowski told Randall Strossen, and at no time was that more evident than in the 2008 MET-Rx World's Strongest Man contest." - quoted from the March 2009 issue of MILO®, which has just come out.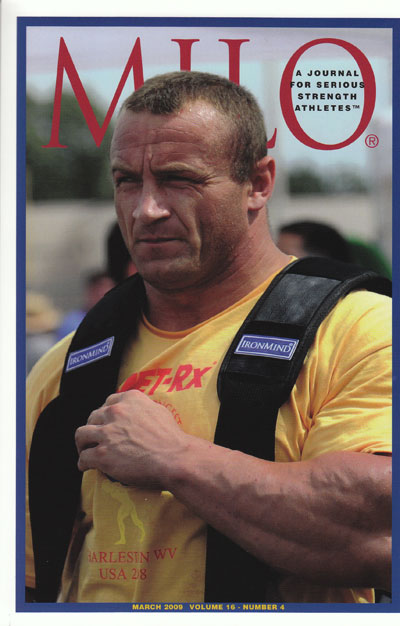 Who would bet against this guy? We didn't. IronMind® | Randall J. Strossen photo.


Randall Strossen's cover photo caption from the March 2009 issue of MILO® continues: "He was black and blue, bandaged, said to be one step from surgery, and rumored to be on the verge of having to pull out completely or at least sit out events . . . But under that pile of muscle beats the heart of man who doesn't know the meaning of the word quit. Steely-eyed and unwavering in reaching his goal, Mariusz Pudzianowski became the first man in the history of the World's Strongest Man contest to win the title five times."

And for doing that, Mariusz made IronMind®'s decision about cover honors a no-brainer. The March 2009 (Volume 16 - Number 4) issue has just come off the press . . . click here to buy and/or subscribe.

For all MILO® subscribers, your March 2009 issue is in the mail, but it will be arriving a week or so late, unfortunately, as there was an error in the binding stage that required us to reprint the entire issue . . . Thanks to a Herculean effort by our printer, though, the delay was minimized, and we apologize for this inconvenience.