Marisuz Wins First Stage of WSF World Cup
Four-time World's Strongest Man winner Mariusz Pudzianowski added another feather to his cap as he won the first stage of the WSF World Cup.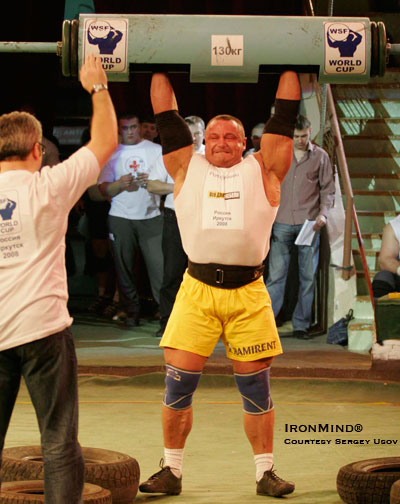 Mariusz Pudzianowski, on his way to winning the first stage of the WSF World. IronMind® | Photo courtesy of contest organizer Sergey Usov.

Here are the final places, officially, direct from WSF World Cup founder Vlad Redkin:

1. Mariusz Pudzianowski (Poland)
2. Elbrus Nigmatullin (Russia)
3. Stojan Todorchev (Bulgaria)
4. Mark Felix (Grenada)
5. Dmitry Kononec (Russia)
6. Rolands Gulbis (Latvia)
7. Pavel Soroka (Belarus)
8. Tarmo Mitt (Estonia)
9. Antanas Abrutis (Lithuania)
10. Konstanin Homjakov (Russia)

[For our] "Next stage, we plan in Dubai 4-5 of April," Vlad Redkin told IronMind®, "and [the] promoter is Omid Amiri - vice president of WSF."

From what IronMind® has heard, everyone had a great time at the contest, which included nice touches for the athletes, such as colorful gifts like a Siberian fish in a barrel.