Magnus Ver: "The Old Man Can Still Press"
Without question, Magnus Ver Magnusson is one of the world's most recognizable strongmen - and while he might still compete for the fun of it, these days he is seriously involved in the sport as a contest organizer, promoter and referee.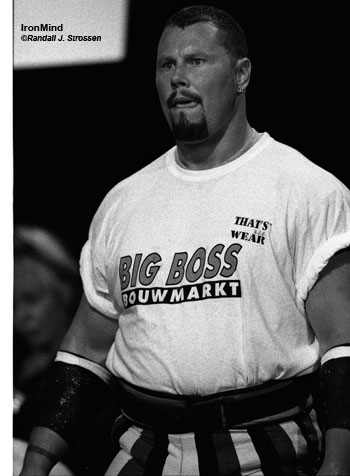 About to attack the Stones of Strength at the 1997 European Strongman Classic (Hardenburg, Holland), Magnus Ver must be thinking the right thoughts - he won the event and finished second overall (to Riku Kiri). IronMind® | Randall J. Strossen, Ph.D. photo.
Coming off a string of successfully organized strongman contests last year, Magnus Ver wrapped up 2006 with the IFSA World Championships, a contest he was instrumental in organizing. He also has helped develop and promote his young Icelandic proteges, Bendikt Magnusson and Stefan Solvi Petursson. Refereeing has not been an insignificant portion of the four-time World's Strongest Man winner's activities, and he is just coming off a stint with the whistle in the Ukraine, where he refereed the Arnold Strongman Challenge.

Back home in Reykjavik, Magnus Ver is very pleased with the progress of the television shows coming from the 2006 IFSA qualifiers and world championships, and the introductory video for these contests that is now up on the IFSA website.

Given Magnus Ver's credentials, you have to remember to keep things in perspective when he says that his training is "horrible" at the moment. "I feel fat as a pig," Magnus said, but with very little training, he just knocked off 200 kg for a triple in the close-grip bench press (no shirt, of course).

"The old man can still press," he said.