Magnus Ver Magnusson: Icelandic Strongman Scout
"Hey Randall - Here is a picture of my new Icelandic strongman giant!!!," four-time World's Strongest Man winner Magnus Ver Magnusson emailed to IronMind's Randall Strossen today.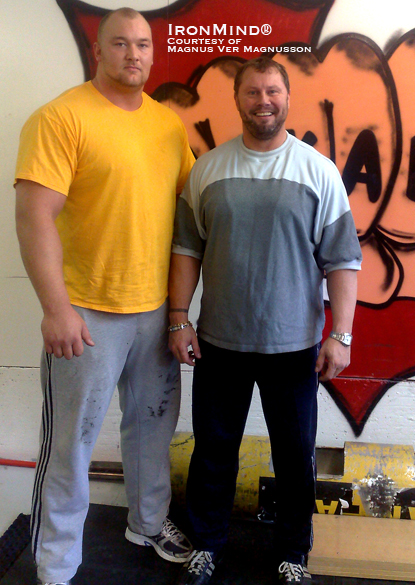 Hafþór Júlíus Björnsson (left), standing 2.05 meters (nearly 6' 9") tall, and weighing 170 kg, nearly dwarfs four-time World's Strongest Man winner Magnus Ver Magnusson (right). IronMind® | Photo courtesy of Magnus Ver Magnusson.


"I found him last year. He is 21 years old and is over 170 kg now . . . Give me a call."

Magnus Ver Magnusson is president of the Federation of Icelandic Strongmen and he told IronMind®, "I have four contests coming up."

Let's start with the Strongest Man in Iceland, which is June 5 in Grindavik, during an Icelandic national holiday called Fisherman's Day. With a bronze statue of Jon Pall Sigmarsson and major bragging rights going to the winner, it's a truck pull and then deadlift for reps followed by Atlas stone for reps, circus dumbbell and farmer's walk/super yoke medley.

"Among competitors," Magnus Ver Magnusson told IronMind®, "are Benidikt Magnússon, the big lion Hafþór Júlíus Björnsson, Páll Logason, Orri Geirsson, Ólafur Valur Guðjónsson, Úlfur Orri Pétursson, Sturla Ólafsson, Heiðar Geirmundsson and Jón Þór Ásgrímsson."

Hafthor Julius Bjornsson used to play basketball, Magnus Ver said, and the two met shortly before Magnus Ver Magnusson opened his gym, Jakabol. A knee injury ended Bjornsson's basketball career, Magnusson said, but he seemed like a good prospect for strongman. In fact, Bjornsson broke two Icelandic records in the stone carry last year, Magnusson said, and, along with gaining about 35 kg of bodyweight since their initial meeting, Bjornsson is now deadlifting 350 kg.

"In two years, he will be really good," Magnusson said of his latest find.


Want to talk strength? Join the IronMind® Forum!

You can also follow IronMind® on Twitter.