Magnus Samuelsson in Vegas
In Las Vegas for a trade show where his sponsor Thule is exhibiting, Magnus Samuelsson told IronMind® today that while it was frustrating to be injured this year, the hope and intention is to get healthy and return in 2007 to make his twelfth appearance in the World's Strongest Man contest.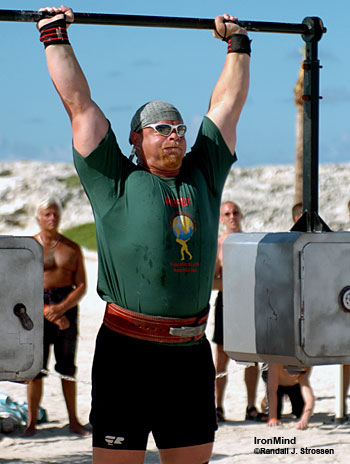 If he's healthy, it's safe to bet on a top finish by Magnus Samulesson at the 2007 World's Strongest Man contest. IronMind® | Randall J. Strossen, Ph.D. photo.
Besides having won World's Strongest Man contest, Magnus Samuelsson is known for having the world's strongest arms - which includes what is widely regarded as some of the absolutely strongest hands on the planet. Not everyone knows, though, that Samuelsson has a 1977 Firebird and one of the fringe benefits of this trade show is that he can keep his eye open for a special manifold he'd like for his car.

Reflecting on 2006, Samuelsson said, "It was a very strange year; it was my best year ever in terms of business and I had never been stronger in the gym. I was bigger and stronger than ever," which says something when you're about two meters tall and your body weight can go over the 150-kg mark.

Magnus Samuelsson seemed set for a banner year in competition and he was seen as a realistic candidate to win this year's World's Strongest Man contest . . . if he could stay healthy. As things turned out, though, the man known to many as simply "the Big Swede," had to withdraw from all three strongman contests he entered this year: the WSMSS Mohegan Sun Grand Prix, the WSMSS Moscow Grand Prix, and the MET-Rx World's Strongest Man contest.

Although the problem originates in his back, the scary thing, Samuelsson said, is that his right leg went numb, and in an effort to correct the problem, he is considering surgery - Samuelsson said if he needs to go this route, he prefers to have this done before Christmas and then be back in gym a few weeks later, working toward his goal of not just making it to his twelfth World's Strongest Man contest, but winning it or at least finishing on the podium.