Magnus Samuelsson: Full Throttle Ahead for World's Strongest Man Winner
He's big, strong, dances well and drives fast, too: World's Strongest Man/Dancing With The Stars winner Magnus Samuelsson has been driving a rally car in what he told IronMind®, "is a memory for life."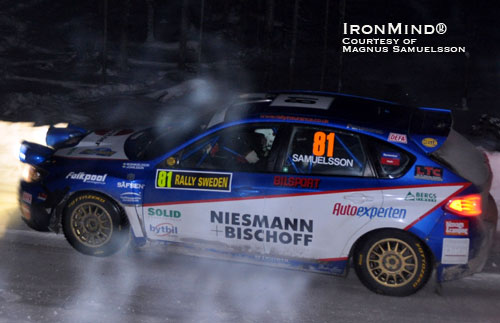 If you have been following the IronMind® News column, you might get the idea that some members of the strongman community aren't at their best behind the wheel, but Magnus Samuelsson has proven himself more than capable in both spheres. IronMind® | Photo courtesy of Magnus Samuelsson.


"Just got back from a fantastic week in Hagfors," Magnus Samuelsson told IronMind® today, "where I have been behind the wheel in a Subaru N14 rally car. The combination of absolute perfect weather and somewhere between 200,000 - 400,000 people standing in the forest as we were passing by at 190 kmph [about 118 miles per hour] on small, icy roads is a memory for life. The plan is to race 5 times more this year."

Proving himself as multi-talented, Magnus Samuelsson said, "I have loads of work right now. We are filming a number of TV programs and TV commercials [in the] next coming weeks."

More projects are in the works, including an English edition of his book, so stay tuned for updates on Magnus Samuelsson.