Magnus Samuelsson: 2006 World's Strongest Man Contest
Magnus Samuelsson, who was forced to sit out this year's World's Strongest Man contest because of his IFSA contract, told IronMind® that this contract has been terminated, that he is training hard and that his "main goal for next year is World's Strongest Man."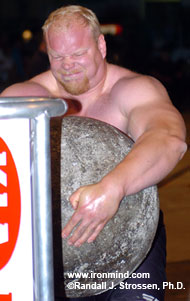 Working away at the 2004 World Muscle Power Championships (Dolbeau-Mistassini, Quebec): When Magnus "The Stone King" Samuelsson wraps his hands and arms around a stone, it's something like an anaconda latching onto its next meal. IronMind® | Randall J. Strossen, Ph.D. photo.
Magnus Samuelsson first competed in the World's Strongest Man contest in 1995, when he was a surprise qualifier for the finals, where he broke Nathan Jones's arm in the arm wrestling event - the unfortunate combination of pitting an experienced arm wrestler (Samuelsson) against a competitor who was strong, but inexperienced in arm wrestling (Jones), and not having referees ready to stop the match as soon as one of the competitors got into the broken-arm position. Samuelsson went on to win the 1998 World's Strongest Man contest and he is always in the hunt for a top position, finishing third, for example, in his last appearance (2004).

Always a crowd favorite and always a factor for top honors in everything from the truck pull to stone loading, Samuelsson is also on everyone's short list when talking about the strongest arms around, and his performances on the No. 3 and the No. 4 Captains of Crush® Grippers, as well as on the Rolling Thunder, put him in the uppermost echelons of grip strength.

One of the most marketable of all the professional strongmen, Samuelsson is a real draw wherever he goes and his return to World's Strongest Man will be greeted enthusiastically by strongman fans worldwide.