MILO: A Journal For Serious Strength Athletes . . . New Design, New Features
The June issue of MILO®: A Journal For Serious Strength Athletes is out and it sports a new design and new features.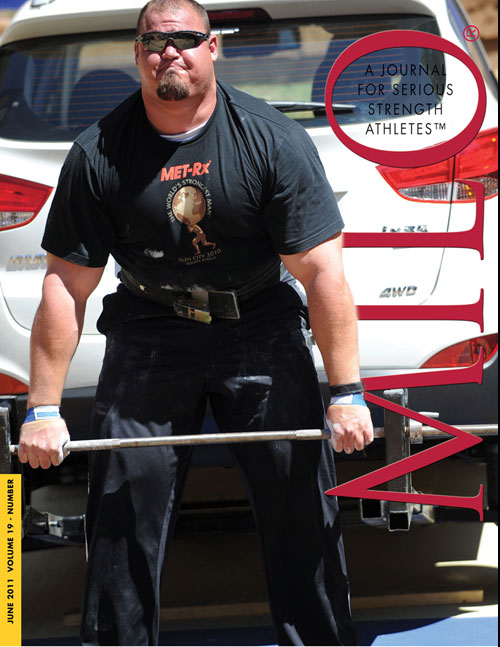 MILO went on the SUPER SQUATS program and hit new proportions, coming in at a full sized 8-1/2" x 11", and talking big, how about June coverman, Brian Shaw: At 6' 8" and 440 lb., Colorado strongman Brian Shaw is sometimes compared to a mountain. Shown here in the Car Deadlift at the 2010 World's Strongest Man, Brian is a favorite in 2011. Randall J. Strossen photo.


MILO production editor Elizabeth Hammond said, "Just in time for summer, MILO, the strength journal that sets the standard for stellar coverage and big results, is sporting a brand new look. With a large format design that highlights its stunning photos, MILO has also added several new features:

1. Ask the Expert – Q. & A. column lets you ask the questions and get the answers from experts

2. Practical Science Applied – Brian Jones, Ph.D. looks at current research in the field of strength and decodes what it means for your training

3. From Our Archives – read the story behind a selection from Randall Strossen's archives of stunning photos from the top of the strength world

"You'll still find new training ideas, top contest results, world champion photos and inspiring strength athletes' stories in every issue.

"In the June 2011 issue, find out what makes two top athletes, Olympian shot putter Adam Nelson and Highland Games comer Dan McKim, tick. Take a moment to drool over the photos from the FitExpo Vise Grip Challenge and the Giants Live Qualifying Strongman Tour. Then use the motivational boost—and the superb training articles—to chart some new training courses that could lead to PRs.

"In 2012, MILO will cover its fifth Olympic Games. With its new, approachable design, top reporters, and world-class information, it's ready to present weightlifting in London in its full color and glory. You won't want to miss it."

The June 2011 issue has just been mailed to MILO subscribers. You can order a single issue to see how you like it, or subscribe for four issues a year."

Featured columnist Dr. Ken Leistner just received his advance copy of the June issue of MILO and he told IronMind, "Great new look to MILO, excellent change. I would not have thought nor would I have suggested a change in format but its very positive and has a wonderful look to the journal."


###


The IronMind Forum: discuss this article, talk strength, get help with your training.

You can also follow IronMind on Twitter.