MHP Strongman Champions League–Slovakia
This coming Saturday will be the 10th stop for MHP Strongman Champions league, when the world's largest strongman tour comes to Kosice, Slovakia.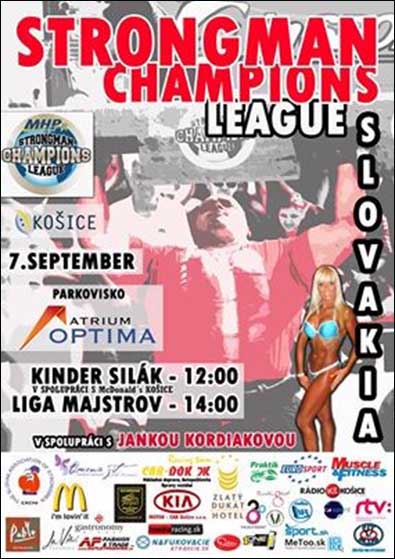 In the tenth stage of its 2013 season, MHP Strongman Champions League is coming to Slovakia this weekend. IronMind® | Courtesy of SCL


"With a field of 13 athletes—including the big shots Vidas Blekaitis, Ervin Katona, Lauri Nami, Dainis Zageris and the SCL leader Krzysztof Radzikowski—it promises to be a great contest again!," Marcel Mostert told IronMind. "Will Ervin strike again here and conquer the SCL Leader shirt again?

"It is busy weeks for the athletes and SCL organization as there are 5 competitions in a row: Next week already is the SCL Russia, where Zydrunas Savickas and Thor from Iceland and Mike Burke will be competing as well again."

Competitors
1. Lithuania - Vidas Blekaitis
2. Ukraine - Konstantin Ilin
3. Hungary - Akos Nagy
4. Serbia - Ervin Katona
5. Slovenia - Gregor Stegnar
6. Austria - Martin Wildauer
7. Poland - Krzysztof Radzikowski
8. Latvia - Dainis Zageris
9. Estonia - Lauri Nami
10 .Czech - Lukáš Svoboda
11. Slovakia - Branislav Golier
12. Slovakia - Peter Puzsér
13. Slovakia - Igor Petrík

Events
1. Log lift
2. Farmer´s walk
3. Dead lift car
4. Atlas Stones
5. Truck Pull
6. Forward Hold

In more MHP Strongman Champions League news, next Thursday, September 12, SCL –Portugal will be broadcast on Eurosport at 10 PM (22.00).

#

Want to talk strength? Join the IronMind Forum:

You can also follow IronMind on Twitter and on Facebook.