MHP Strongman Champions League Goes to Portugal
The SCL train is in Portugal this weekend, and this time that's literally the case with the train.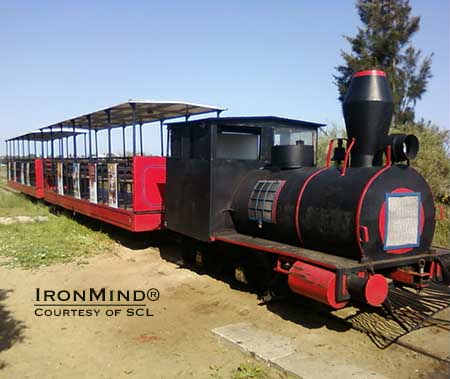 SCL cofounder Marcel Mostert has long likened Strongman Champions League to a train, and this weekend this is the train that will take the strongman competitors to their events on the beach. IronMind® | Courtesy of SCL.


"The next stage of the SCL series is coming weekend at 27/28 July in Portugal," Marcel Mostert told IronMind today.

"It's the 7th stage, done over 2 days.

"The line up is great again, with, for example, the SCL leader, Krzysztof Radzikowski, together with Vytautas Lalas and Terry Hollands.

"All are preparing for the World's Strongest Man next month, but still they want to do the important SCL series as well.

"Also 3 Portuguese athletes will be competing, Aderito Santos, Luis Batista and Nuno Esteves.

"It will be a nice event with filming at the sunny beach and events in the city in evening lights, said Mostert.

Here are the events, officially:

• Shot put with 14 kg shot
• Power Team Forward Hold
• Tourist Train Pull
• Deadlift for reps
• Medley: Farmer's Walk and Tire Flip
• MHP Log Lift for reps with 140 kg

### 



The IronMind Forum: discuss this article, talk strength, get help with your training.

You can also follow IronMind on Twitter and on Facebook.