MHP Strongman Champions League Coming to Hungary
"The next stop for the SCL train will be in Budapest, Hungary, this coming weekend," Marcel Mostert reported to IronMind.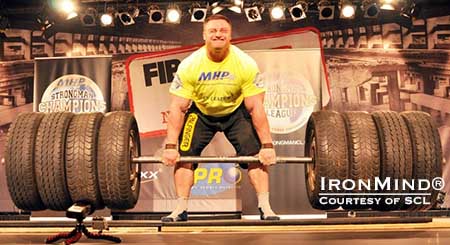 Krzysztof Radzikowski is the current leader in the MHP Strongman Champions League. IronMind® | Courtesy of SCL


"The battle for the title in Hungary will be important for the MHP/SCL leader Krzysztof Radzikowski," said Mostert.


"After a little injury he got at the World's Strongest Man last week, he will fight anyway to gather his points for the SCL World title, and in a field of 14 athletes, that is not an easy job to do.

"Over 6 heavy events and for an enthusiastic crowd, it will be again a great event in the MHP Strongman Champions League. Here are the start list and the events for coming weekend.

Competitors
1. Krysztof Radzikowski—Poland
2 Antti Mourijarvi—Finland
3. Katona Ervin—Serbia
4. Meelis Peelis—Estonia
5. Didzis Zarins—Latvia
6. Paul Pirjol—Romania
7. Gerhard Gschiel—Austria
8. Peter Puzser—Slovakia
9. Marc V.d. Haer—South Africa
10. Bjorn Solvang—Norway
11. Sebastian Davidson—Sweden
12 Gregor Stegnar—Slovenia
13. Tamás Hajnal—Hungary
14. Ákos Nagy—Hungary

Events
1. TaxiPLus limo pull arm over arm

2. Vitaricum Viking press

3. Super Yoke

4. Power Team forward hold

5. TaxiPlus car deadlift

6. Hard Rock lift

 #

Want to talk strength? Join the IronMind Forum.

You can also follow IronMind on Twitter and on Facebook.