MHP Pro Invitational Strongman Competition: Van Hatfield Builds Up a Huge Lead
Atlanta, Georgia - Van Hatfield continued to pile up points in the second day of the MHP Pro Invitational Strongman Competition today and has built up a huge lead.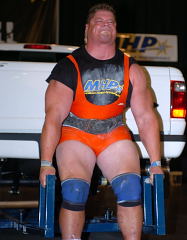 Once again proving he is the deadliest deadlifter in strongman, Mark Philippi easily won the truck deadlift event today. IronMind® | Randall J. Strossen, Ph.D. photo.
The day started off with a medley that proved to be a two-minute drill that drilled all the competitors as nobody finished the entire course. Don Pope won the event, followed by Van Hatfield and Phil Pfister. Next was the deadlift, and Mark Philippi was in a class by himself, pounding out 13 reps. Van Hatfield, Karl Gillingham and Geoff Dolan, followed, at nine or fewer reps, although after a protest lodged by one of the competitors last night, Geoff Dolan's points are not being counted since he is not a US citizen.

Van Hatfield holds the lead at 44 points, followed by Mark Philippi at 36 points, Phil Pfister at 33, and Jon Andersen and Steve Kirit, both at 32 points.