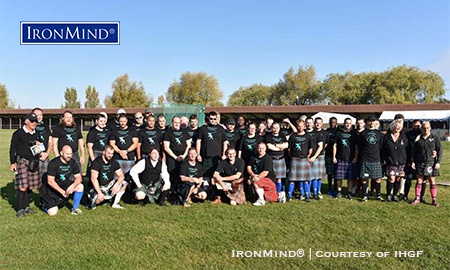 Jean Louis Coppet, French delegate of the International Federation of Highland Games
Highland Games (IHGF), reported on the Luzarches Highland Games—further evidence of throwing being on the rise in France.


Rendezvous in Luzarches
by Jean Louis Coppet
IHGF delegate for France

As they have done for over 15 years in this small town north of Paris, the Luzarches Highland Games attracted over 40 throwers last week. The new venue, the golf course of Mont Griffon, was a perfect setting for the five competitions scheduled: A, B, masters, women, and under 90 kg. Philippe Cassader, organizing committee chairman, was assisted by Philippe Desbois, competition director and his staff; Maxime Coupin headed the group of the nine judges.

Three new French records were set: Maxime Billaud, Bressuire, set a new light stone record at 12.18 m. Fabien Patheney, Luzarches, threw the heavy hammer a distance of 23.36 m. The Bocker athlete, Belkacem Smahi, Bressuire, set a new record in the 42-lb. weight over the bar in the masters' competition at 4.6 m.

After the great competition of the French championships in Bressuire in June, new evidence can be seen in the rising performances of the French throwers. Stephan Dimitrica, Romania, narrowly won the A group competition, besting Belgian Steven Snauweart, second, by one point. Dimitrica took first in the stones, weight-over-bar, and heavy weight for distance but was fifth in the hammers. Snauweart was second in the hammers and first in the light weight for distance.

Scottish thrower James Dawkins tied for third with Swiss athlete Simeon Brugger. Fifth-place Billaud was pleased to surpass both Patheney and Cyril Boucher, Luzarches, who had beat him in June.

Uli Muller, Germany, won the masters' competition and Smahi was second. The international B-group was won by Belgian Tom Missoten. Conan Quinn, Scotland, was second and Alfons Muller, Germany, third.

Stephanie Frey, Germany, was crowned in the women's competition.

The IHGF coordination for the competitions in France, still directed by Jean Louis Coppet, Bressuire for the next few months, had awarded to the Luzarches committee the under 90-kg French championships for the first time in this country. This first-ever title was won by Sebastien Pizon, Bressuire, who beat Wesley Verger, Luzarches, and William Stibler, St. Michel-sur-Orge. Pizon was the B group French champion in 2013 in Bressuire.

Everyone attending praised the excellent organization of the games in Luzarches again. The standard of the heavy events competitions has risen impressively over the years in France and the emergence of a new generation of younger throwers pleases all the organizers in this country where heavy events were introduced less than 20 years ago.

                                                        ###


You can also follow IronMind on Twitter, Instagram and on Facebook.                        


Want to talk grip, strongman, weightlifting . . . everything strength? Visit the IronMind Forum.