Lukasz Wenta On Top of His Game(s)
Lukasz Wenta edged Scott Rider and Craig Sinclair at the Strathmore Highland Games and Francis Brebner has called the action for IronMind.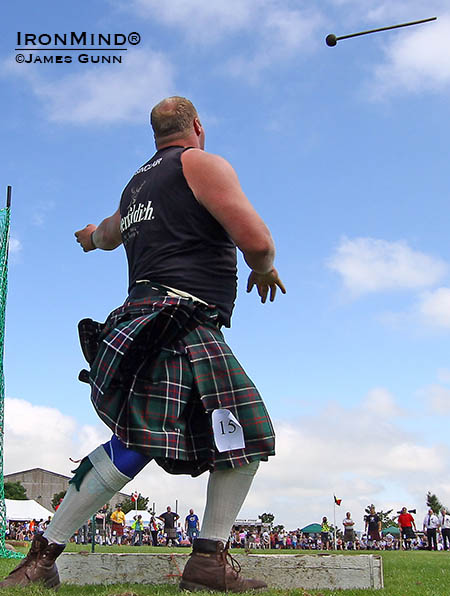 Craig Sinclair established a new ground record in the 22-lb. hammer at the Strathmore Highland Games. IronMind® | James Gunn photo


2014 Strathmore Highland Games: Lukasz Wenta on Top of His Game(s)
by Francis Brebner

The 2014 Strathmore Highland Games in Scotland, set in the stately grounds of Glamis Castle, attracted more three thousand spectators. Two ground records were established, and the esteemed heavy pro lineup included Scott Rider, Lukasz Wenta, Craig Sinclair, Kyle Randall, Heidar "Heisi" Geirmundsson, Lorne Colthart, John MacLeod, and Greg Walker.

The first event with the 16-lb. open shot was a tight competition between Rider and Wenta, who battled round after round, with Wenta triumphant at 56'. Rider was second with 54' 8" and Colthart third with a respectable 49' 2.5".

Wenta ruled once more in the 22-lb. open shot with a world-class putt of 48' 8", followed closely by Rider at 46' 9". Third was Geirmundsson at 43' 10-1/2".

In the 16-lb. hammer, Sinclair delivered a winning throw of 136' 4-1/2", but he had to work extra hard for the victory as the young Randall gave the seasoned athlete a fair run for his money. Randall placed second with 135' 10", and Wenta took third at 126' 2".

In the 22-lb. hammer, Sinclair gave his all to secure the win with a throw of 114' 3-1/2", and Randall again kept close at 108'' for second place. Rider stepped up to third with 105' 4". On extra attempts Sinclair upped his mark to 116' 7" to establish a new ground record.

The 28-lb. weight-for-distance was close combat between Sinclair and Rider, with Sinclair just snatching his third consecutive win with a throw of 77' 2-1/2". Second was Rider with 76' 2-1/2" followed by Colthart at 72' 7-1/2".

In the 56-lb weight-for-height, Wenta reached 15' 6" for a new ground record and the overall win. Second place ended in a tie between Sinclair and Rider at 15'.

Overall points
1. Lukasz Wenta 33
2. Scott Rider 31.5
3. Craig Sinclair 31

###



Want to talk strength? Join the IronMind Forum.

You can also follow IronMind on Twitter and on Facebook.