Lu Yong Cleans and Jerks 214 kg in the 85s . . . Twice
Beijing - Talk about a class that had the tempo of a perfect lift: It started slowly, picked up steam, accelerated some more and finished with an explosion.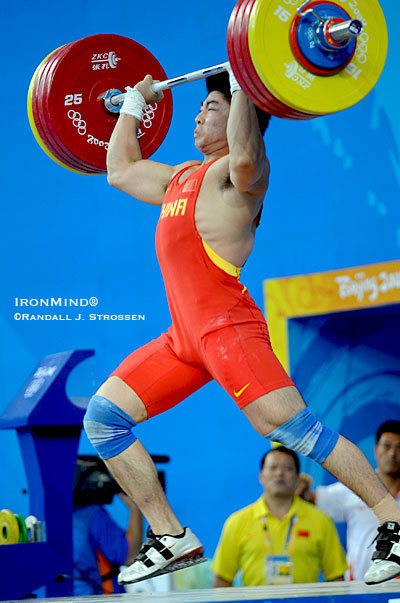 Lu Yong drives under this third attempt 214-kg jerk. He'd already done the lift once and had it passed with three white lights, only to have the jury reverse it. IronMind® | Randall J. Strossen, Ph.D. photo.

Andrei Rybakou (Belarus) can snatch - coming into this contest, he held both the junior and the senior world records and by the end of the evening, he had added the Olympic record to his portfolio by sinking the putt with 185 kg on his third attempt. Lu Yong (China) and Vladimir Sedov (Kazakhstan) were next in line, at 180 kg, and Tigran Martirosyan (Armenia) was in fourth position with 177 kg.

Of the leaders, Rybakou opened first in the clean and jerk, making a good lift with 200 kg and moving into first place. Sedov kicked off the chase for second place by making 200 kg on his opener. Martirosyan had the same idea, but he deadlifted his 203-kg first attempt. Sedov tried to strengthen his position by taking 203 on his second attempt, but he missed the jerk behind. Martirosyan made the same weight on his second attempt, to take over second place, and you could read the relief on his face as he held the jerk overhead. Sedov repeated the weight and had the same result as on his second attempt - punching the bar up and over the back of his head. Rybakou made 204 kg on his second attempt and Marirosyan never came out for 206, so up to this point the top jerk from the B session, American Kendrick Farris's 202, was right in there, but there were still a few attempts left.

Lu Chong opened with 208 to become the latest guy to move into second place, and then Rybakou lit the fuse with 209 kg on his third attempt, good for the Olympic and the world record in the total. What had started slowly was building up speed and the rate of acceleration kept increasing: Lu Chong called for a big 214 kg on his second attempt, going for the gold medal and he made the lift, with three white lights, and the hometown crowd went wild. But wait - guess who got summoned over to the jury and guess whose lift was turned down, reversed by the jury? And now, guess how the crowd reacted.

But fear not for Lu Chong, because he was stoic throughout the replay, doing the lift again - only this time, the white lights stuck with him, and the Chinese weightlifting team earned yet another gold medal.