Lu Xiaojun: Olympic Gold Medal + World and Olympic Records
London—Lu Xia0jun (China) came into the men's 77-kg weightlifting competition as the favorite to leave with the gold medal, and that's the way things turned out, but how they got there is a different story.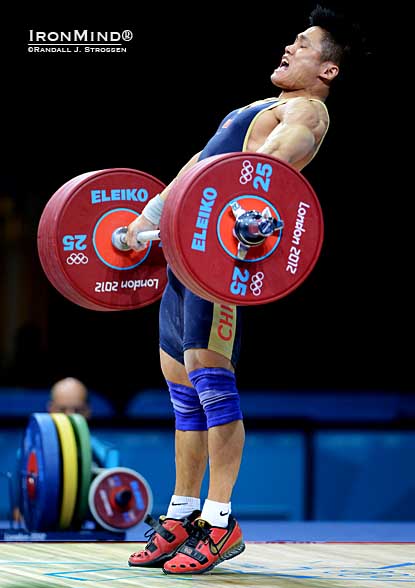 Lu Xiaojun (China) cranks on 175-kg, on his way to breaking the Olympic and the world record in the snatch—he left London's ExCel Center tonight as the 77-kg Olympic weightlifting champion. IronMind® | Randall J. Strossen photo.


Defending Olympic champion Sa Jaehyouk (South Korea) opened with 158 kg in the snatch for a nice success, but what was staring him in the face were the openers of China's two entries: 170 kg for both of them. That would have been bad enough, but on Sa Jaehyouk's second attempt, 162 kg, he blew out his arm and thus ended his chance to defend his Olympic title.

Of the two Chinese lifters, Lu Haojie was the first up and he made 170 kg look pretty easy. Lu Xiaojun followed and he absolutely smoked the lift. Showing that they were serious about being here to lift big weights, the two teammates moved up to 175 kg for their second attempt—a success would mean a new Olympic and world record.

Lu Haojie sent the bar up and over his head, and then Lu Xiaojun stuck it. Lu Haojie passed on his second attempt—we would later find out that he'd tweaked his arm on his second attempt and was trying to preserve it so that he could total.

Not content with having broken the Olympic and world record once, Lu Xiaojun called for 177 kg on his third attempt, but in a mixup, his coaches did not realize that the clock had started for the injured lifter, which meant that Lu Xiaojun had one minute, not two, and time ran out on him. You might say that his coaches were unhappy about this, but their protests were for naught—kind of an anticlimactic end to some fairly sensational snatching.

Lu Haojie lowered his opening clean and jerk from 205 kg to 190 kg and the pain on his face told the story: he made the lift, but came off the platform clutching his arm and that was it for his evening.

Even without pressure from his two most likely rivals, though, Lu Xiajun sparkled as he moved into gold medal position with his opening clean and jerk, 195 kg, and then jumped to 204 kg, which would break the Olympic and world record in the total.

In what was probably a momentary lapse of concentration, Lu Xiajun missed racking the bar, but then he roared back on his third attempt, making a small adjustment at the bottom of his squat jerk and then standing up, his night's work done: he was the Olympic champion and had set two new Olympic and two new world records.

Following Lu Xiajun's 379-kg total, Lu Haojie won the silver with 360 kg, and Ivan Rodriguez Cambar (Cuba) won the bronze with 349 kg. 



###



Visit the IronMind Forum: talk strength, discuss this story. Strongman, grip, Highland Games, Olympic lifting, stones and more.

You can also follow IronMind on Twitter.