Lu Chang Liang Wins 77s on Last C&J
Kanazawa, Japan - The weights weren't huge, but the 77-kg category at the Asian Weightlifting Championships could not have had a better finish as the gold medal in the in the total came down to the last lift of the evening.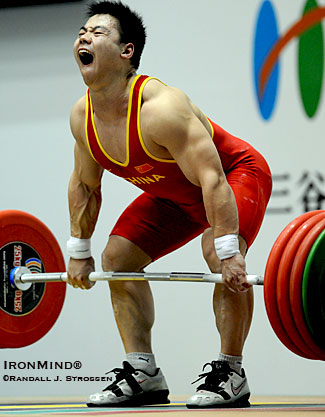 Lu Chang Liang (China) starts 195 kg on its way to the gold medal lift in the total. IronMind® | Randall J. Strossen photo.

The battle for top honors seemed certain to come down to Chinese teammates Lu Xiaojun and Lu Chang Liang, but both lifters stumbled in the snatch. Lu Chang Liang opened with a good 152-lg lift, but then missed 157 kg twice. Lu Xiaojun followed the same pattern, but he did it with a few kilos more: after a successful opener with 158 kg, he missed 163 kg twice.

Lu Xiajun opened the door for his teammate to overtake him when he missed the jerk on his first attempt - a squat jerker, he got under the bar, but then lost control of it. He repeated with the same weight on his second attempt, for a good lift. Lu Chang Liang got dumped trying to clean 189 kg on his opener, so things were looking iffy all the way around, but he came back and made a good, but none-too-easy, lift with the same weight on his second attempt.

This success had put Lu Chang Liang in gold medal position in the jerk and in silver medal position in the total, plus he was the heavier man. Lu Xiajun took 192 kg on his third attempt, looking for the gold medal position in the jerk and an increased lead in the total, but as with his opener, he missed a full squat jerk.

It was down to the last attempt now, and the bar was loaded to the 195 kg Lu Chang Liang needed for the gold medal in the total and after his first two lifts, success seemed anything but certain. It was a tough clean and Lu Chang Liang had to dig to stand up with the weight, but he did, he got it overhead, held it and was the 77-kg champion for his great effort.

Earlier, the 69-kg class was won by Tang Fei (China), whose two-for-six performance yielded 140/177 for an undistinguished 317-kg total. Despite winning the class, Tang Fei did not exhibit either the sharpness or the general lifting standards characteristic of the Chinese weightlifting team, so IronMind® asked a member of the Chinese delegation where Tang Feng would rank on the Chinese weightlifting depth chart. Sure enough, he was described as being a second-tier lifter who would fall outside the top ten in his country and his role here was as a provincial lifter, included on the team with the thought that this motivates the lifters still training and competing at that level throughout China.