Louis-Philippe Jean: Log Lifts and WSM 2011
Despite its grand traditions in the world of strength, Canada has only made the World's Strongest Man podium twice—when Tom Magee was second to Bill Kazmaier in 1982 and when Dominic Filiou took third in 2005—but Quebécer Louis-Philippe Jean plans to change that.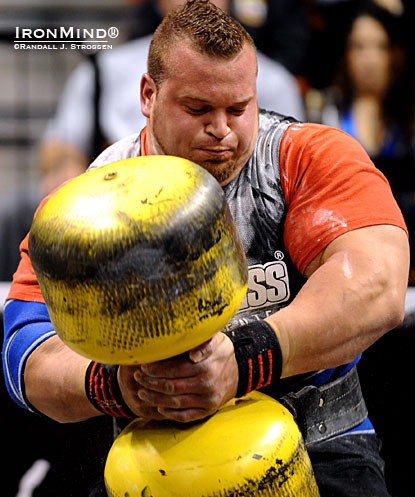 Louis-Philippe Jean works on the Circus Dumbbell, part of the overhead medley at the 2010 World Strongman Super Series–Mohegan Sun. IronMind® | Randall J. Strossen photo.


LP, as his friends call him, hit the international strongman radar screens with his third-place performance on the overhead power medley at Fortissimus 2008, proving that his shoulder strength was a force to be reckoned with.

A week ago, LP continued down this path when he destroyed the old Canadian log lift record (held by no less a star of strongman shoulder strength than fellow Quebécer Hugo Girard) with a 195.5-kg success. When asked about the record lift, LP told IronMind, "[My] foot slipped on the floor; they got some baby powder from powerlifting I guess. Then when I explode my foot seems going in the front. When I push pressed on the second time, I can tell you I was a little out, maybe a quarter inch, but my head goes under the log, which is a sign of a good lockout for me."

All of this is just a stepping stone as LP has his sights set on WSM 2011: "The few next step is losing these extra pounds. I'm 351 and I want to be 340 soon. Too much is not good for this time of the year. I'll go up by August, for World's Strongest Man."

Saying that he has to "train cardio and explosion to be a lot faster and quicker on the yoke and farmer's walk," LP added, "then try to be a lot better all over . . . getting in the mood of being perfect." And as another vital step toward that goal, LP said he "will go train with Derek soon," tapping into the determination and grit that Derek Poundstone personifies.

Asked about the log lift record, LP said, "First of all, I wanted to beat this record (412.5-lb. log), because it was the first 400+ recorded in the world, 10 years ago in the Super Series. It was time for some new blood to come up and show that Canada is still in the race for shoulder pressing power. Z's mark is really hard to reach, but a 200-kg log is a respectable overhead lift. I will probably do it later this year; maybe more, if my body wants to take it.

"On the plan this year, I want to go [back to] the World's Strongest Man, for sure. I have it in my mind. My training will be only for that: Fingal's, farmer's, squat , deadlift, overhead medley, etc. Every event, I want to be good at it. I think I'm the best Canadian on the map now, who can fight it out with the big boys.

"I think also about getting 5–6 training a week: 3 muscle training, 1–2 event training, 1 speed and fast walk or plyometric for speed. We'll see. I like to be at 340 and being fast!

"I have to increase my deadlift, my speed and cardio. Be fit, but big. Really strong, but fast. Several things have to be changed for me. Keeping the focus on the training, the wedding, August 20, in Québec. Keeping family plan too, because with the amount of training and public appearances we do, we have to make plan!

"And then, if I have a chance, qualify for WSM 2011, then win my group, and finish on the podium—this will be the best way to finish the year.

"I think I might get to compete too for the Odd Haugen contest tour, World Strongman Super Series. I like Odd: he's a good man, good friend, too."

###



The IronMind Forum: discuss this article, talk strength, get help with your training.

You can also follow IronMind on Twitter.