Lillie Edges Arneson at IHGF All-American Highland Games Championships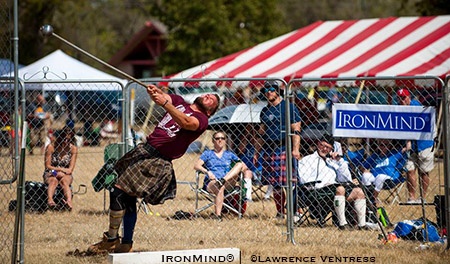 Skylar Arneson went into the final event—the caber—with a 4-1/2 point lead, but it's never over 'til it's over.



IHGF All-American Highland Games Series Championships: Lillie Edges Arneson for the Win
by Francis Brebner
President

International Highland Games Federation (IHGF)



After a very successful IHGF All-American Highland Games qualifying series, the IHGF All-American Championships were hosted by the Great Plains Renaissance Festival in Wichita, Kansas, with the title holder earning a place at the 2018 IHGF World Amateur Highland Games Championships in Fefor, Norway. 



Throughout the 2017 Highland games season, U.S. athletes had competed in a qualifying series of six games, with a total of 11 athletes making it to the championships: Kyle Lillie, Skylar Arneson, Eddie Brown, John Anthony, Andrew Heaton, Ryan Stoltz, Ryan Huddleston, Chad Thompson, Jon Hereth, Sean Burns and Eddie Johnson.

The exciting championships, in perfect weather, was a battle to the last event, with Lillie edging Arneson by one-half point. Lillie started by setting two field records in the stones. In the 22-lb. Braemar stone, he delivered a best of 42', surpassing the old field record of 41' 3". Second place was a tight huddle between Arneson, Brown and Burns, with Arneson squeaking by at 40' 5", followed by Brown at 40' 3" and Burns at 40' 2".

In the 16-lb. open stone, Lillie confidently unleashed a hail of class putts, with his best being 56', a back-to-back win, breaking the old field record of 54' 1". Hereth pulled out 50' 3" to take second over Arneson's 49' 8".
                                                                                                                                                           
Arneson produced the winning throw of 37' in the 56-lb. weight for distance. Second was a skirmish between Brown, Hereth and Thompson, with Brown taking second with a noble throw of 36' 9", leaving Hereth in third with 36' 7" and Thompson inches behind at 36' 4".
 
Lillie led the way in the 28-lb. weight for distance with blistering throws over 75', not to be caught with a best of 79' 2" for the win. Anthony and Arneson both produced 75' 1", with Anthony taking second on countback, leaving Arneson in third.

Arneson had to work for the win in the 22-lb. hammer, pulling out 106' 1" on his final attempt. Lillie nudged ahead of Johnson for second with 103' 10" and Johnson took third at 103' 6".
 
All eyes were on Arneson in the 16-lb. hammer as he narrowly took the victory with a throw of 127' 8" on his final attempt. Second place was close, with Lillie lobbing a throw of 125' 9" over Johnson's third-place 124' 8".

In the 56-lb. weight over bar, Arneson's effort soared to a height of 16' for the win. Second place was decided on countback between Lillie, Brown and Anthony, who all tied at 15' and took second, third and fourth in that order.

Going into the caber toss, at 20' and 120 lb., Arneson was in a comfortable lead by 4-1/2 points. In a superb contest, Brown took the win with 12:00, 12:15 and 11:45 tosses. Second was Thompson and third Lillie, who with a 12:00 toss, earned enough points to go ahead of Arneson by a half point to win the overall championships.
   
Arneson has a great future ahead of him at such a young age of 24 and will be a star in future Highland games—but he will have to wait until next year for vindication.  
 
Lillie, in only his second season of Highland games, has made a big jump from track and field and is still improving, and like Arneson, will make a worthy pro heavy as he moves up through the ranks. 

The IHGF would like to thank Richard Cathey of the Great Plains Renaissance Festival hosting the IHGF All-American Highland Games Championships, and especially the athletic directors Dave and Gunner Glasgow and Larry and Terri Ventress, who made it all possible.


                                                                  ###



Follow IronMind on Twitter, Instagram and on Facebook.


Want to talk strength? Visit the IronMind Forum: Strongman, grip, Highland Games, Olympic lifting, stones and more.