Liefia Ingalls Wins IHGF Women's Norwegian Stones of Strength Challenge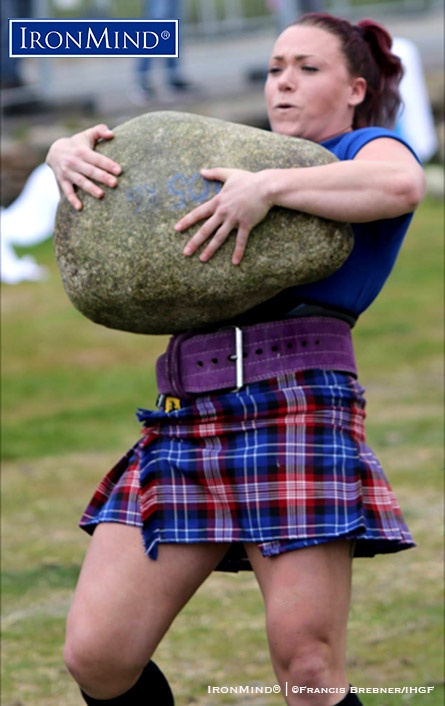 Liefia Ingalls won the inaugural IHGF Women's Norwegian Stones of Strength Challenge at the Fefor Hotel.

2017 Women's Norwegian Stones of Strength Challenge, Head-to-Head
by Francis Brebner
International Highland Games Federation (IHGF)



The first of its kind, the IHGF Women's Norwegian Stones of Strength Challenge, Head-to-Head was staged in Vinstra, Norway, at the Fefor Hotel Sports Arena. Two exceptionally strong women, Liefia Ingalls (USA), who placed fifth in the 2016 World's Strongest Woman and Sweden's Anna Harjapaa, who was sixth, were invited to compete in the four-event challenge, including stone pressing, stone lifting, stone putting, and stone carry.

In the 48-kg stone press overhead, with 60 sec. to complete as many reps as possible, Ingalls set off at a steady pace and pumped out 10 solid reps. Harjapaa used a very difficult-looking technique of half curling the stone that did not seem to faze her arms until she hit 5 reps and fatigue set in, but she still managed 9 reps.

The Atlas stones, ranging from 82, 103, 122, and 141.5 kg, were to be placed on 4' high barrels within 75 sec. Harjapaa was fired up and set off at fast pace, landing the first, second and third stones quickly, but at the final stone of 141.5 kg, she barely managed to break it off the ground, settling for a fast time of 14.33 sec. on three stones. Ingalls, knowing what time she needed to beat, had her sights locked in on lifting all four stones. She attacked, slamming three in a superfast time of 11.85 sec. to go ahead of Harjapaa, but fell short on the final stone. Ingalls now had wins back to back.

The second day of competition began with the 22-lb. Braemar stone putt from behind a trig with a 3 m approach, and any style could be used, one- or two-handed. Ingalls took the early lead in the first round with a putt of 21' 9-1/4". In the second round Harjapaa delivered her best of 23' 3" to take the reins. Ingalls then produced her best of 22' 2-1/2" and had to settle for second place.

The last event was the Fefor stone carry, in which the 115-kg stone was picked up and carried for max distance up and down a course of 15 m. Harjapaa needed the win to tie Ingalls, so the pressure was on. Ingalls had the first run and produced a very good distance of 40 m, followed by Harjapaa's run, which fell short at 29.40 m.

The head-to-head competition was well-received, with Ingalls claiming the title IHGF Women's Norwegian Stones of Strength Challenge champion. Harjapaa put up a good fight, and everyone looks forward to a rematch next year in Fefor.  


                                                        ###



You can also follow IronMind on Twitter, Instagram and on Facebook.                        



Want to talk grip, strongman, weightlifting . . . everything strength? Visit the IronMind Forum.