Li and Kuntatean: Big Battle for Women's 53-Kg Title
Doha, Qatar - The women's 53-kg category produced a great battle between Li Ping (China) and Junpim Kuntatean (Thailand), and some very nice lifting by Yudergue Contreras (Dominican Republic) as well.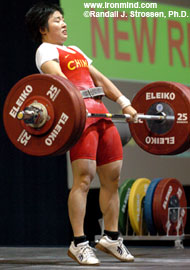 Li Ping (China) finishing the pull on her 126-kg clean and jerk at the World Weightifting Championships today. IronMind® | Randall J. Strossen, Ph.D. photo.

Contreras ran through three nice snatches: 89, 91 and 95 kg. Li took 94 on her opener for a good lift, and Kuntatean, who was lighter than Li, hit 95 on her first attempt. When Li missed 98 on her second, she opened the door for Kuntatean, but she too missed the weight on her second attempt. Continuing to mirror each other, both Li and Kuntatean made 98 on their third attempts.

When everyone else was done, Kuntatean and Li started in the clean and jerk, Kuntatean with 120 and Li with 123 - both for good lifts, and Li's was a junior world record in the total. Kuntatean took 125 on her second attempt for gold medal position in the jerk, and then Li leapfrogged over her with a success at 126, good enough for the lead in the jerk, plus junior world records in both the jerk and the total.

Now the gloves came off and Kuntatean called for 130, going for the gold in the jerk and total, and the senior world record in both, as well. She got under the bar, was fighting to stand up, but then collapsed forward, hitting the platform stretched out face down and didn't move. What at first was taken as a moment of psychological distress was then recognized as something physical. Kuntatean was carried from the platform and it looked like it might be bad. No time to stop here for Li, who took 131 for her third attempt. She already had golds in the jerk and total, to go with her silver in the snatch, and a handful of junior world records, but if she made this lift, it would be good for the junior and senior world records in both the jerk and the total. She cleaned it as if it were an empty bar, but missed the jerk.

Good news on Kuntatean's injury followed, as Dr. Ashgar Shahabi, who we believe holds the world record for re-setting dislocated arms backstage, told IronMind® that Kuntatean's had had a muscle spasm, which seemed like nothing compared to what might have happened.