Doha - On paper, it looked like the men's 56-kg category would be a battle between 2006 World Weightlifting Championships gold medalist Li Zheng (China) and 2006 World Weightlifting Championships bronze medalist Hoang Anh Tuan (Vietnam), and that's just how it turned out.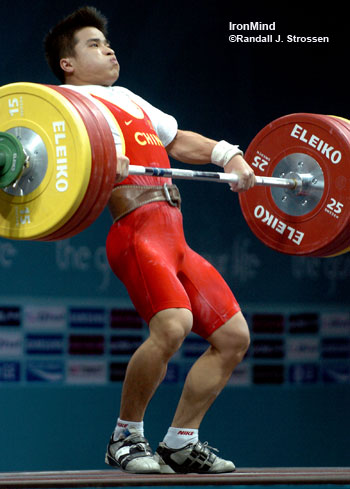 Li Zheng pulls himself under 157 kg, on his way to the clean and jerk that gave him the gold medal in the 56-kg category at the Asian Games today. IronMind® | Randall J. Strossen, Ph.D. photo.

Hoang opened with a very nice 123-kg snatch, and Lee Jong Hoon (Korea), who had smoked 120 kg on his opener, followed him, on his second attempt, for another good lift with the same weight. Li Zheng hit a very nice 125 for a good first attempt. Cha (North Korea) made 126 on his second attempt, and then Hoang made the same weight for his second attempt - it looked more solid than his opener, so things were looking good for the Vietnamese lifter. Irawan (Indonesia) missed 126 on his third, sending the bar up and over his head, and then Lee did the same thing. Li made 128 on his second attempt, although it looked a little shaky overhead. Cha missed the same weight on his third attempt, and then Hoang wrapped up his snatches with a sweet lift at the same weight. Li answered with a good 130, although it required some adjustments in the bottom position.

Lee made a good opening clean and jerk with 150, as did Cha and Irawan. Li opened with a good 152, followed by a very restrained celebration. Cha missed the jerk on 153, and then got buried going under the same weight on his third attempt. Hoang opened with 154, but missed the jerk, and Lee did the same thing with 154 on his second attempt. Hoang came back and made 154 on second, with a wide, deep split, and this must have inspired Lee, because he also made the weight, for his third attempt. Wang Shin Yuan, who was 12 kg down after the snatches, opened with 155, made a nice lift, and moved up to fifth place. Irawan couldn't stand up with 155 on his second, and Li made a good second attempt with the weight, with a lift that was a carbon copy of his first attempt. Irawan, going for third place, took 156, cleaned the weight, but lost the bar when he adjusted for the jerk. Hoang, letting it all hang out, took 157 on his third and made a good lift, much like his second attempt, moving into gold medal position, but not for long, because Li answered with 157 to leapfrog over Huang. Wang still had two attempts, and first he missed the jerk with 159 and then he couldn't get under it on his third attempt.

Lots of young talent in this class, so watch for fireworks in Beijing: Li got the gold with 287, Hoang was good for the the silver with 285, and Lee took home the bronze with 277.