Doha - "When he came out, I thought Mariusz [Pudzianowski] was here for a second," said strongman's own Colin Bryce, who is here covering Wushu and bodybuilding at the Asian Games, and also has been able to catch some weightlifting in his free time every day.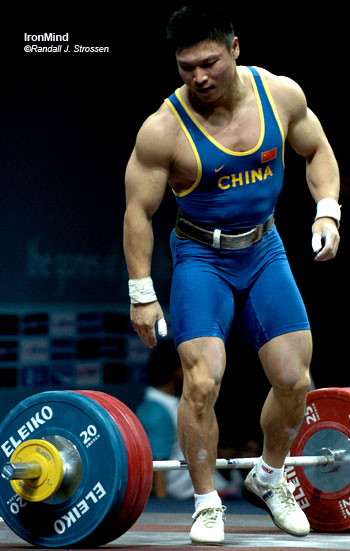 This 168-kg snatch was the only lift Li Hongli missed all night - the muscular lifter won the gold medal in the 77-kg category at the Asian Games today. IronMind® | Randall J. Strossen, Ph.D. photo.
Li Hongli (China) certainly has an amazing physique and while he has always been able to snatch half a house, he has often been let down by his jerk - he might have turned a corner, though, because he won the 2005 World Weightlifting Championships and tonight he became the Asian Games champion as well.

Nader Abbas (Qatar) stuck 150 on his opener, and Lee Jeong Jae (Korea), after having missed the weight twice, came back for a successful lift. Harem Ali (Iraq) ripped up 151 on his first attempt, and then he and Abbas both missed 155 on their second attempts, but came back to make the weight when they repeated. Li made easy work of 160 and then 165, before launching 168 up and over his head.

Of the leaders, Abbas started first in the clean and jerk, with a good 185, jerking the weight with his characteristically wide grip. Fast forward a couple of attempts, and Ali made a nice opener with 186, followed by Lee making a not-too-easy-looking 187 for his first attempt. Abbas missed the jerk with 190 on his second attempt, and Lee made 191 on his second - it looked better than his opener. Even with the added fuel of Yani Marchokov (who will be lifting as Jaber later this week) yelling at him, Abbas missed the jerk again - this time it was with 192 on his third attempt. Ali, who had shown some real fire in the snatches, missed the jerk with 193 on his second attempt, while Li made another good lift, hitting it for his second attempt. Ali only deadlifted 193 on his third attempt, and Li, calling for 196, made a good lift and for the first time tonight, showed some signs of the shakiness that has plagued his jerks in the past. Lee, in the great Korean tradition of loading up a big one and then going for it, cleaned 200, only to miss the jerk.

Li finished with 361 and Lee made 341 - nudging Ali out of the silver medal on bodyweight.