Lee Pressures, Pechalov Perseveres and Zhang Wins the 69s
Athens – Looking at the opening attempts, it was clear that a slip would mean quite a slide, and the battle was so close that the gold medal wasn't decided until the last lift.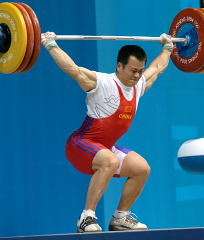 Zhang Gouzheng (China) on his way up with his 160 kg snatch. IronMind® | Randall J. Strossen, Ph.D. photo.

One lifter was listed as opening at 140 kg in the snatch, four at 145, three at 147.5 and one (Zhang) at 155. Zhang lowered his opener to 152.5 and that was a significant move because after he made it on his first attempt, there were six successive misses before Lee Bae Young (Korea) stuck it. Zhang went on to a sweet success with 157.5 kg, and then another nice lift with 160, celebrating each success with great vigor. Nikolay Pechalov (Croatia) had a close miss with 155, so he finished the snatches in third place (150), behind Zhang (160) and Lee (152.5).

Zhang, besides having a 7.5 kg lead at this point, also happens to hold the world record in the clean and jerk, and based on his post-lift theatrics, he wasn't lacking confidence that he was on a roll, so we expected that the primary battle might be between Lee and Pechalov, for the silver medal. That turned out to be only partly true.

Pechalov opened with 182.5 kg for a good lift, Lee did the same thing with 185 kg, and Zhang cemented his lead by absolutely nailing 187.5 kg on his opening clean and jerk. Pechalov took 187.5 to move into second place and although he had to work hard to stand up and fight for the jerk, he made it - much to the delight of the many fans he had cheering wildly for him. Lee made a very nice lift with 190 kg on his second attempt, to recapture the silver medal position. Zhang was up next, and he smoked the clean on 192.5 kg, glided to the bottom position of his squat jerk and that's when everything collapsed: he absolutely crumpled under the weight, and he seemed shocked or embarrassed, or embarrassed to the point of shock, or maybe it was shocked to the point of embarrassment. Pechalov tried to leapfrog back into silver medal position, but he had gone to the well once too often tonight and he couldn't stand up with the weight. There was no shame here, for he had a great night, and he showed his appreciation to the roaring crowd by bowing magnanimously as he walked off the platform.

Zhang was up next and by now anything could happen, and what we got was a repeat of his second attempt. With one attempt left, Lee called for the 195 kg that would give him the gold medal, preparing himself mentally as he motioned the crowd for quiet. The bar came up, he got under it, started up, but it was too much for him tonight and it looked like he was losing his balance backward, so he ended up getting shot out to the rear of the platform. Great lifting!