Kyle Lillie's Winning Performance: IHGF Amateur Worlds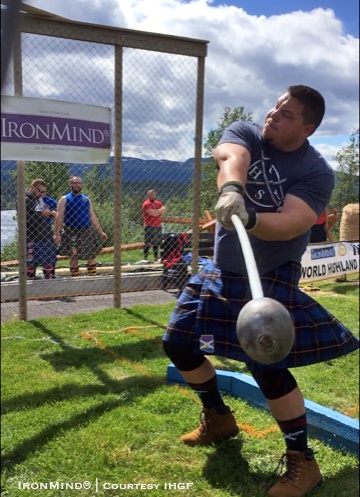 Reporting from the field for IronMind, Francis Brebner called the action on the record-breaking 2018 IHGF Amateur Highland Games World Championships.


2018 IHGF Amateur World Highland Games Championships
by Francis Brebner
President, International Highland Games Federation (IHGF)
 
High in the mountains, in the magnificent setting of the Fefor Hotel in Vinstra, Norway, three major IHGF world sporting events took place on the picturesque games field overlooking Loch Fefor with the backdrop of Mount Fefor. Altogether 36 athletes and officials gathered for the IHGF Power Week, which started with the 2018 IHGF Amateur World Highland Games Championships, a stellar two-day competition of 12 athletes from 11 countries. The athletes looked larger and stronger than last year and it showed in their overall performances, setting world and national records.

The championships opened with the 16-lb. hammer, with Glenn Nys (Belgium) throwing over 129' and hanging onto the lead with a best of 133' 1/2". On extra attempts Nys upped his best to 136' 7", surpassing the field record of 133' 3/4" set by USA's Gary Randolph in 2017. Second place was close, with Kyle Lillie (USA) pulling ahead of Jamie Gunn (Scotland), 130' 2-1/2" to 128' 9-1/2".

In the 18-lb. open stone, Lillie unleashed a series of monster throws all over 50', crushing the field record of 51' 4" set by Randolph in 2017 with a new record distance of 56' 6-1/2". Gunn put up a great show with a putt of 49' for second place, with Phillip Friedemann (Germany) in third place with 47' 9".
 
The 28-lb. weight for distance was Lillie's second victory with a gigantic throw of 84' 5", again surpassing the Fefor ground record of 78' set by Randolph in 2017. Second was Johan Longhurst (Netherlands) at 76' 3" and third Gunn at  74' 4".

Nys again showed great form in the 22-lb. hammer with a second win, doing 108' 10" and coming close to the ground record of 110' 5". Lillie followed with 105' 10" and Gunn was third at 103' 3".

Several athletes achieved personal bests in the 56-lb. weight over bar, which started at 12'. Six athletes were still in the competition at 16'. Longhurst prevailed in the end, clearing 17', with Nys second at 16', and Lillie and Gunn tied for third at 15'.
 
The caber toss, with a caber 18' long and 130 lb., also carried the title of IHGF Amateur Caber Tossing World Championships. Longhurst, a two-time winner and the defending champion, showcased extreme overall power as he slammed the caber to a perfect 12:00 for the win, retaining his title. Gunn took second on countback with 11:55, followed closely by Joe Pocock (Canada) at 12:05.

The 20-lb. Braemar stone was the highlight of the championships as Lillie, who had set a new amateur world record at the beginning of the season, opened at just over 47'. Upping this to 49' in the second round, he unleashed 50' on his final throw, setting a new IHGF amateur world record. Second place was a tight competition, with Friedemann marginally going ahead of Longhurst, 42' 5-1/2" to 42'.
 
In the final event, the 56-lb. weight for distance, Lillie thrashed out a series of throws all over 40', with a best of 42' 7-1/2" for the win and a new field record, surpassing the old record of 39' 3-1/4" set by Randolph in 2017. Nys was second at 39' 2-1/2", with Pocock third at 37' 10".
 
Final placings
1. Kyle Lillie (USA) 16
2. Johan Longhurst (Holland) 27
3. Jamie Gunn (Scotland) 28
4. Glenn Nys (Belgium) 29
5. Phillip Friedemann (Germany) 31
6. Joe Pocock (Canada) 51
7. Stephan Dumitrica (Romania) 59
8. Svavar Sigursteinsson (Iceland) 64
9.  Yrjo Hamalainen (Finland) 71
10. Tibor Kiss (Hungary) 74
11. Austin Sztajdocher (Canada) 82
12. Fabien Patheney (France) 82

                                              ###



You can also follow IronMind on Twitter, Instagram and on Facebook.                        



Want to talk grip, strongman, weightlifting . . . everything strength? Visit the IronMind Forum.