Kyle Lillie Wins Prescott Highland Games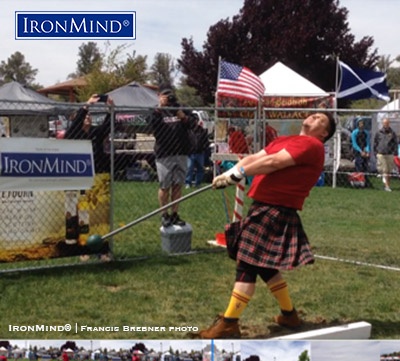 Kyle Lillie was pushed by Eddie Brown and pulled off a half-point win at the Prescott Highland Games, which was the third stage of the IHGF All-American Highland Games qualifying series—also establishing himself as a potential future star in the Highland Games heavy events.

2017 Prescott Highland Games
by Francis Brebner
President
International Highland Games Federation (IHGF)
 
The 2017 Prescott Highland Games was the third leg of six in the IHGF All American Highland Games qualifying series, and it featured a Highland Games star in the making, 25-year-old, 6' 4", 330-lb. Kyle Lillie, of Maine, in only his second season of competition. 

More than 90 athletes turned out to compete over two days in the unique and picturesque setting of stone hills and lush green trees and surrounded by clan tents and vendors, creating the great atmosphere typically found in Scotland.
 
The A lineup included Eli Kiener, Eddie Brown, Sean Burns, Anthony Clinker, Alex Nobles, and Kyle Lillie. In the 22-lb. Braemar stone, Kiener vied with Lillie, who claimed the win on his final attempt with a class put of 46' 3-1/4" and a new field record. Kiener placed second with 45' 4-1/4", and third was a tie between Burns and Brown at 42' 1-1/2".
 
Kiener went all out in the 16-lb. open stone with a series of puts all over 50' and secured the victory with a best of 53' 8", using the glide technique. Lillie placed second, having two fouls at over 55' and then managing, with a sigh of relief, a good put of 53' 4-1/4". Burns was third at 49' 8".
 
In the 28-lb. weight for distance, Brown stormed the win, the only athlete over 80', with a triumphant throw of 80' 5-1/2". Second place was Lillie with 70' 4-1/4" and third was a tussle between Kiener and Clinker, with Kiener pulling ahead in his final attempt with 68' 6-3/4".
 
Brown dominated again in the 56-lb. weight for distance with a throw of 38' 4", with Anthony Clinker second at 31' 7-1/4" and Lillie third at 30' 7-1/4", which not only gave Brown the event win, but also the IHGF All-American 56 for Distance Championships title.
 
In the 16-lb. hammer, Brown let rip in the first round with a mighty throw of 135' 1", but this was good only for second place when surpassed by Lillie's world-class throw of 141' 8-1/2", which set a new field record, smashing the old record of 135' 10' set by Andrew Hobson in 2005. Clinker took third with 124' 4".
 
The 22-lb. hammer was another victory for Lillie, who blasted out a series all over 100', with his best being 106' 8'. Second was Brown with 102' 8" and third Burns with 97' 1".
 
The 56-lb. weight over the bar was an exciting show as five athletes battled at 16'; at 16' 6", Brown and Lillie contended, with Lillie taking the win. Kiener placed third but unfortunately tore part of his biceps, and he had to withdraw from the rest of the competition.
 
The 20-lb. sheaf toss was won with a great performance by Burns, the only athlete clearing the bar at 30'. Brown took second with 27', with a tie for third between Clinker and Lillie at 24'.
 
Only Brown succeeded in tossing the 16' 8", 126-lb. caber, with an 11:55. Second went to Burns with a 70-degree attempt, with Lillie and Nobles tying for third with 65 degrees.
 
Athletic director Mark Markley was pleased with the large turnout of athletes and the perfect weather over the two days of competition. The next leg in the IHGF All American Highland Games series will take place in Pikes Peak, Colorado, June 16–18, 2017.
 
Amateur A Results

1. Kyle Lillie   18
2. Eddie Brown  18.5
3. Sean Burns  29.5
4. Anthony Clinker     35.5
5. Eli Kiener (inj.)       38.5
6. Alex Nobles            49

Five athletes have qualified to date in the IHGF All American series:

• Skylar Arneson
• John Anthony
• Andrew Heaton
• Eddie Brown
• Kyle Lillie
 
                                                        ###



You can also follow IronMind on Twitter, Instagram and on Facebook.                        



Want to talk grip, strongman, weightlifting . . . everything strength? Visit the IronMind Forum.