Kyle Lillie Wins Pikes Peak Highland Games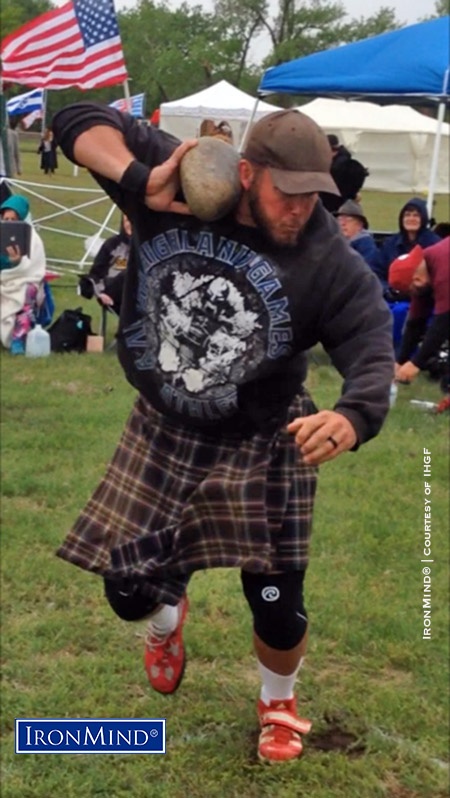 The strong Amateur A field at the Pikes Peak Highland Games included stone putting duels between Kyle Lillie and Skylar Arneson in the run-up to the 2017 IHGF World Amateur Highland Games Championships.




2017 Pikes Peak Highland Games
by Francis Brebner
President
International Highland Games Federation (IHGF)



The Pikes Peak Celtic Festival in Colorado was the fifth leg of the IHGF All American Highland Games series, and in faultless weather, a strong contingent of seven Amateur A heavy athletes went head to head: Chad Thompson, Andrew Heaton, Kyle Lillie, John Anthony, Bryan Staggs, Eddie Johnson, and Skylar Arneson. Three field records were established in the light and heavy hammers and the keg toss over the bar, which record is awaiting confirmation as a new amateur world record for the big Coloradan Heaton.
 
In the 22-lb. Braemar stone, both Lillie and Arneson, known for their stone putting abilities, went all out from the first round, with Lillie blasting out a best of 40' 1" for the win over Arneson, who placed second with 38' 11"; in third place was Anthony with a gallant putt of 37' 6".
 
Again in the 16-lb. stone, Lillie and Arneson produced a fantastic series of putts, with Lillie capturing the victory with 56' 2-1/2", followed closely by Arneson at 55' 6", and in third place, Anthony with a respectable 48' 6-1/2".
 
Heaton let fly with a crushing throw of 37' 6" in the 56-lb. weight for distance for the win and a new field record; in second place was Lillie with 35' 10-1/2" and in third Anthony at 35' 8-1/4".
 
In the 28-lb. weight for distance Lillie buttoned up the victory from the first round with a series of bombs, the best at 77' 5-1/2", leaving Anthony and Arneson to vie for second, with Anthony marginally going ahead at 73' 4-3/4" to Arneson's third-place 73' 1/4".
 
In the 22-lb. hammer, Johnson was the only athlete to throw over 100' and was on fine form with his fluent technique, doing 103' 1/4" for the win and a new field record. Lillie trailed at 95' 5" and Anthony followed closely at 94' 3/4".
 
In the 16-lb. hammer Lillie made the field record books with a very fine throw of 125' 3-3/4". Second was Thompson at 123' 10-1/4" and third Arneson at 117' 3/4".


The 56-lb. weight over bar was a slug fest between Heaton, Arneson and Lillie, who all tied at 16'. Heaton was the winner on countback, with Arneson second and Lillie third.

The caber, 19' 11" in length and 108-lb., was won by Anthony's toss of 12:15, over Heaton and then Arneson.
 
The 20-lb. sheaf toss was a four-way tie between Thompson, Anthony, Staggs, and Johnson at 28', and on countback they placed in that order.
 
The final event, the 33-lb. challenge keg over the bar, was a highlight for Heaton, who showed no signs of fatigue as he set a field record at 25' 1", now awaiting verification as a new amateur world record.
   
Overall placings:

1. Kyle Lillie
2. Skylar Arneson
3. John Anthony
4. Andrew Heaton
5. Eddie Johnson
6. Chad Thompson
7. Bryan Staggs
 
The final leg in the IHGF All American series will take place in Dublin, Ohio on 6 October, where the last two qualification spots will be contested for the finals of the IHGF All American Highland Games Championships. The champion will then proceed to the 2018 IHGF World Amateur Highland Games Championships, in Fefor, Norway.     
    
                                                        ###



You can also follow IronMind on Twitter, Instagram and on Facebook.                        



Want to talk grip, strongman, weightlifting . . . everything strength? Visit the IronMind Forum.