Krzysztof Radzikowski Wins SCL Zambia
"Last weekend, 12-13 September, in hot (35 degrees Celsius) and sunny Lusaka, Zambia, Krzysztof Radzikowski won SCL ZAMBIA, the 11th in the series of the MHP Strongman Champions League 2014," Marcel Mostert reported to IronMind.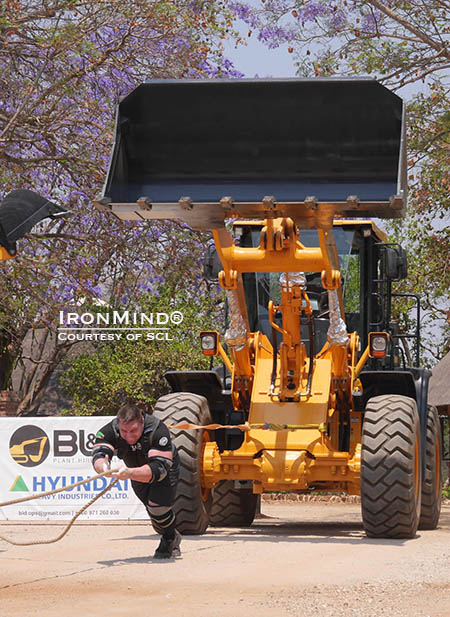 Krzysztof Radzikowski is back with a vengeance, with an overpowering performance at SCL Zambia that gave him that title plus catapulted him into third place in the overall 2014 SCL rankings to date. IronMind® | Photo courtesy of MHP Strongman Champions League


"This was the very first SCL competition in Zambia and it succeeded in a welcoming atmosphere with an enthusiastic public. All the athletes enjoyed the experience of competing there, along with sightseeing in the beautiful surroundings, with elephants, zebras, and giraffes.

"Krzysztof is really back on track. The man was super-strong again and in great shape, and it was his third win in a row. You can clearly see that he is hungry to get his yellow leader's shirt back in the MHP Strongman Champions League and to defend his SCL world title of 2013. If that happens, he will be the first strongman to have two SCL world titles in a row.

"In the first event, pulling a heavy front-loader truck of 16 tons in loose sand over 25 m, Krzysztof showed right away what he was there for, winning in 35.74 sec. Alex Moonen and Ervin Katona followed on 36.68 and 36.72 sec. respectively—a very close finish. Krzysztof also won the log lift for reps, the front hold, the sack loading, and the tyre flip of 480 kg. In the deadlift for reps he had to share points with Dainis Zageris of Latvia.

"The man is on fire, climbing up on the ranking and now is at third place overall now, just behind Martin Wildauer and Ervin Katona.

Wildauer still has the MHP/SCL leader's shirt despite losing valuable points in this competition from a mistake in the truck pull that put him in last place. After 11 stages, he is just one point in front of Ervin Katona. That makes for an exciting competition this coming weekend, where the 12th stage, MHP/SCL ROMANIA will take place 20-21 September.

"Katona was second overall, and Zageris third in Zambia. Tristan O'Brien of South Africa did very well with a fifth-place finish.
In the meantime, you can watch tomorrow, Thursday, 18 September the first broadcast of MHP/SCL Latvia at 19:00 hours prime time on Eurosport," said Mostert.

Final Results

1. Krzysztof Radzikowski (Poland) 59.5
2. Ervin Katona (Serbia) 49
3. Dainis Zageris (Latvia) 44
4. Alex Moonen (Holland) 33.5
5. Tristan O'Brien (South Africa) 32.5
6. Martin Wildauer (Austria) 31.5
7. Lauri Nami (Estonia) 20.5
8. Frikkie Page (South Africa) 19.5
9. Antti Mourujarvi (Finland) 19
10. Marc Van der Haer (South Africa, inj. biceps) 13

For the current SCL ranking points, please follow this link.

###



Want to talk strength? Join the IronMind Forum.

You can also follow IronMind on Twitter and on Facebook.